Benefits of Bamboo Furniture and Sheets while Restyling Kid's Room
Bamboo is one of the fastest-growing plants in the world that don't use harmful pesticides and chemical fertilizers.
It is a flexible material that can be built into furniture that will blend well in your kid's room. Bamboo can withstand damage from harsh use.
Recently, it has been innovatively transformed into fiber used in creating sheets, pillows, and toppers that will make your kid's rest well from a good night's sleep. 
Top Tips
Tips for Restyling Kid's Room
A bedroom to kids just like adults serves many purposes it is a place to play, study, and to feel safe but most importantly it is a place to rest the weary body after a tiring day. But unlike a master's bedroom restyling a youngster's room is a challenge you should consider their change as they grow. Here are some tips to help you restyle your kid's room.
Let kids have their say
You would like to keep the occupant happy so listen to their ideas and allow them to choose some furnishings and colors. They would love you more if you will allow them to express their own personality – and maybe they will keep it clean and organized.
Wall decals
You were a kid once and you know how it feels to have a cartoon character posted on the wall. Use peel-and-stick decals, let them pick out the design and mount them, offer a helping hand to your kid.
Choose flexible furnishings
Time flies, when he was 7 he would love to sleep in a race car bed but now he's a teen it's time for a replacement. Oakwood is a fine choice since they work well with any design of the room and it can be useful to a child at any age.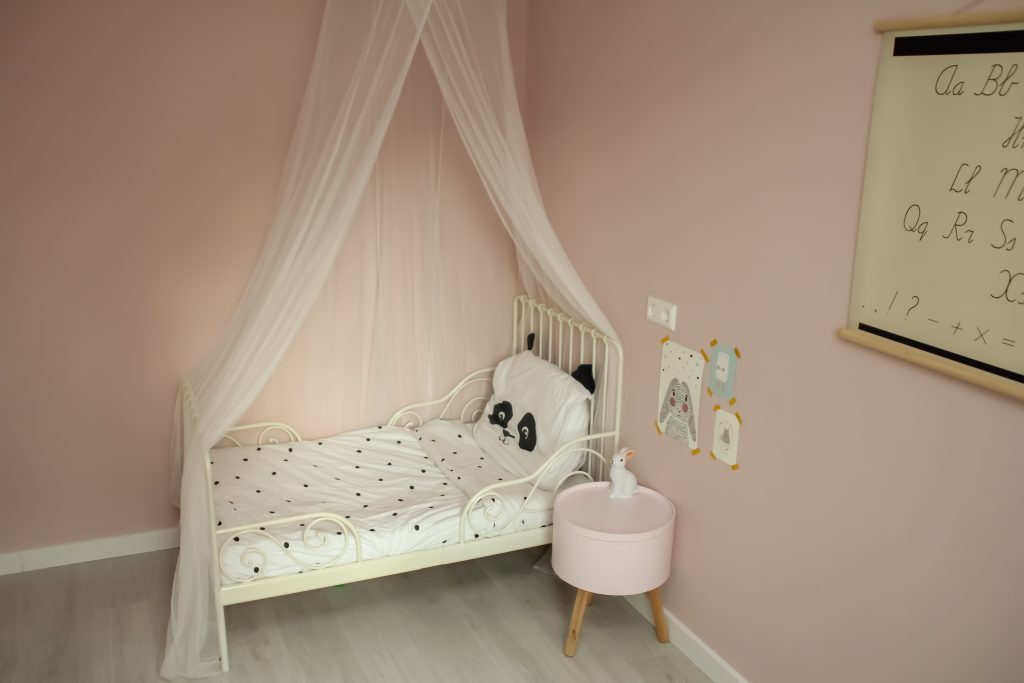 Maximize space
Push the bed against the wall and the head touching a corner. This will open up space for playing and cut down fears that something spooky is lurking under the bed.
Storage
The key to organization is a good storage but you need to bring it down to your kid's level. Hanging rods, shelves, and drawers should be within arm's reach and provide a footstool to avoid a climb. Have cabinets repaired for defective ones to avoid an accident.
Electrical Safety for Kid's Room
Kids must be protected from danger and in a kid's room they are exposed to electricity. Practice these electrical safety precautions to keep your youngsters out of harm's way.

Use electrical outlet caps
Cover outlets with electrical outlet caps. A child won't be able to grip it because of the flat surface, and it will prevent poking any object to the outlet.
Avoid extension cords
Kids have a tendency to chew on cords. They are a playful lot, you don't want them to play with the extension cord and knocking down appliances.
Proper grounding
Protect your kid from electrical shock by grounding the current to a grounding point.
Remove carpet 
Carpets build static electricity over time. By removing carpets in the room you can avoid a discharge that will jolt your kid.

Use rechargeable lamps
An electric lamp will provide light in the room to deter unwanted visitors during nighttime. But a simple mishandling might harm your kid. Use rechargeable lamps instead. 
Shorten cords
Long cords can loop around your child's body causing them to stumble and pull the lamp on them.
Bamboo Furniture and Sheets Benefits for Kids
Furniture made from bamboo is a great alternative to natural resources that are depleted. Aside from being sustainable, there are other reasons why bamboo furniture is good for your kids.

It does not require pesticides or fertilizers for growth,

It is durable and can withstand damage from a great deal of use.

It is resilient to swelling and shrinking from changes in atmospheric conditions.

The strength of the bamboo furniture is stronger than any furniture in your house.

There are many designs to choose from including, chairs, tables, beds, playhouses, and more.

Your kid's room does not need to be compromised the fine grain and finishes will blend with the setting.
You might see your kids restless, they keep turning and tossing to find the right sleep. Something is bothering them, perhaps it's the sheets of their beds.
Using low-quality sheets affect sleep, consider using bamboo sheets to improve your child's sleep. Here's how bamboo sheets can help your child sleep better.

Don't store heat
The tossing and turning of your kid are to get the cold side of the sheet because the regular sheets dissipate heat. Bamboo sheets don't store heat your kid doesn't have to look for the cold side.
Repel allergens
Bamboo doesn't use pesticides or other chemicals which makes the bamboo fiber hypoallergenic or it resists allergens. It gets rid of allergic irritations while sleeping like itch or sniffles.
Odor resistant
Bamboo sheets repel odor which is the growth of bacteria and fungi.
Conclusion
Bamboo has unique properties enjoyed by builders, eco-warriors, designers, allergy sufferers, and families too. Bamboo is one of the most incredible plants with flexible usages including a bed in your kid's room, bamboo sheets in bedding's or anything in between.
Bamboo Buying Guide
Read our detailed reviews on Bamboo Sheets
Read our detailed reviews on Bamboo Pillows