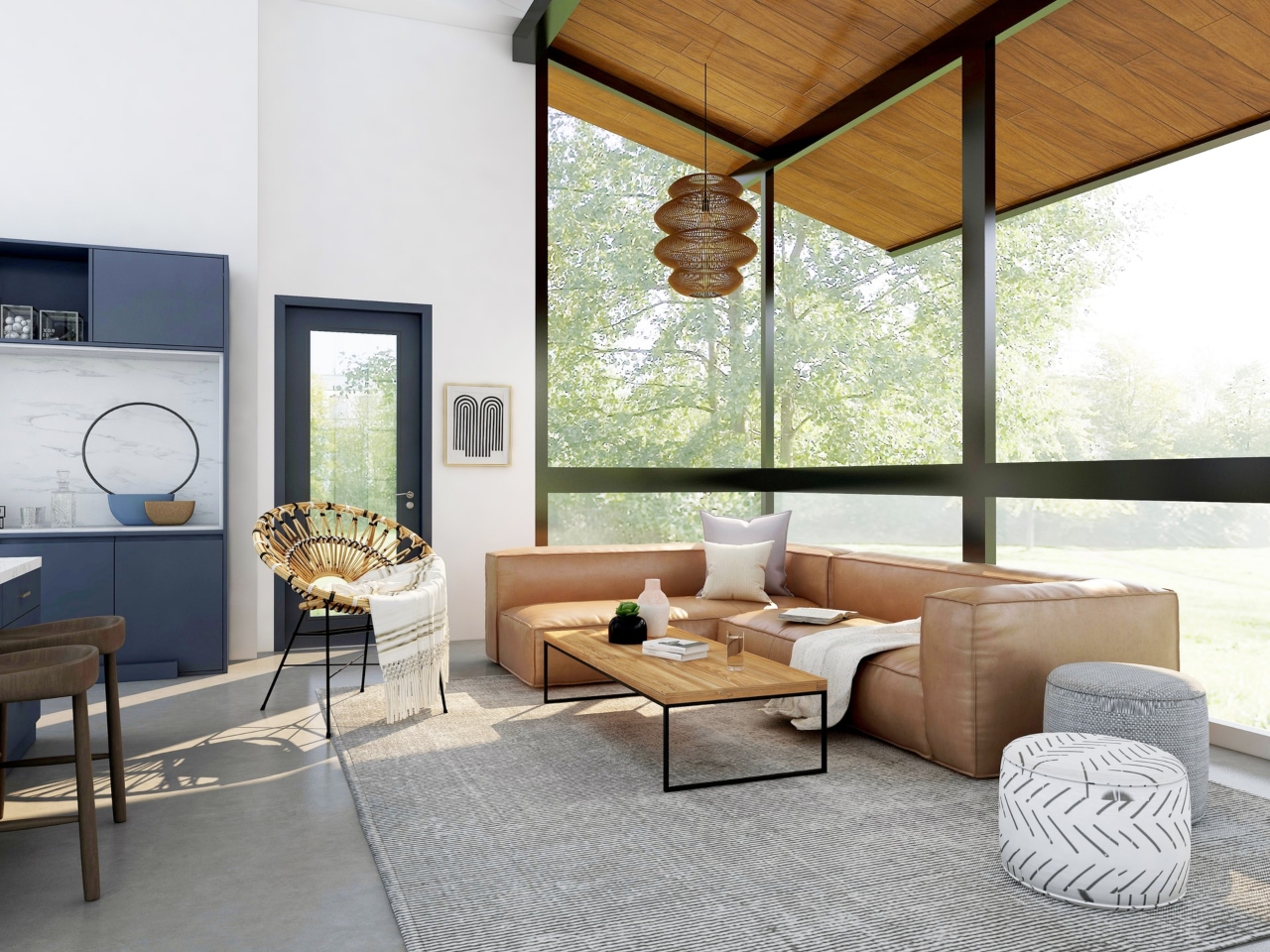 If there's one thing every room can benefit from, it's the focal point. The star attraction of the room, a focal point is an inevitable component of every well-designed interior, and a feature many designers center other design choices around. A focal point serves as an ideal starting point for arranging and decorating a room, and when done right, it can elevate any living space.
The question is: What exactly serves as a focal point? And, more importantly, how do you identify an existing focal point and create one when there's none? The truth is, creating a beautiful focal point in your interior design doesn't have to be expensive or time-consuming, nor do you need to call in a professional. In fact, creating a central point can be as simple as following one of these five great tips that work best for your living space. Let's get started!
Identify and highlight the room's existing feature
Many rooms have a unique, special feature that can capture the attention of anyone who walks in almost instantly. Identifying and highlighting the eye-catching feature in the room is also the easiest route you can take when it comes to creating a focal point.
As for the focal point itself, it's usually a feature that's easy to see when a person enters the room. For some homeowners, it'll be an original old-house or rustic accessory such as a fireplace. For others, it'll be a large window with a gorgeous and breathtaking view, an exposed brick wall, or interesting architectural elements such as timber beams and vaulted ceilings. Adding personal features, including eye-catching window treatments, or using wallpaper to create an unusual feature wall are all effective ways not just for homeowners but also for renters looking to decorate a rented space without losing the deposit.
Use a mirror to create your own focal point
If your interiors don't contain a natural focal point – don't fret! You can easily create one by simply adding an effective design element such as a mirror that will draw the eye. A practical add-on that will enhance both style and function of a room, a beautiful, unique mirror can act as an art piece on its own.
It's a wonderful alternative to built-in focal points and a really practical one since it introduces more light so the entire living space appears much brighter. This is why it's no wonder mirrors happen to be one of the most popular solutions for homeowners looking to make a small room look bigger and create the illusion of spaciousness where needed.
Add statement furniture pieces that will act as showstoppers
Another way to add a focal point in a room where there is none is to bring in a couple of statement furniture pieces. Statement furnishings are ideal for offering additional seating options while simultaneously acting as showstoppers that draw all the attention to them.
Increasingly more people across the globe are switching to furniture shopping online, mainly due to the coronavirus pandemic that's, unfortunately, still going strong. That seems to be the case even in countries and regions such as Australia, where customers traditionally prefer shopping in brick-and-mortar stores. 
So, are you in the market for some statement furniture? Browse the internet for some stylish furniture in Australia that would blend in with your design style seamlessly, be it a stunning leather sofa, an eye-catching armchair, or a pair of ottomans in a bold, bright hue. When it comes to statement furnishings, the options are truly endless. Plus, they'll make for exciting centerpieces that will highlight both your personality and creativity.
Draw the eye by painting the accent wall in a bold color
Adding a pop of color through a feature wall has to be one of the easiest and most popular ways to create a beautiful focal point in basically any interior. This is usually the wall that's the furthest from the entry point, and it can really make the furniture in front of it pop.
As for the color, this is where you get to express your own individual style and preferences. Bright hues such as white and gray are quite popular these days, but darker ones can be equally exciting. If you choose to go with dark colors, make sure to factor in the room's size, colors of flooring and furniture, and the amount of light coming in. As an alternative, you can also use wallpaper or add an exposed wall to create a stunning focal point and make that one wall really stand out.
Make a powerful statement with eye-catching wall art
Painting a wall or adding wallpaper can really change the overall feel of the room, but there are other ways to turn a plain and otherwise bland wall into an eye-catching focal point. Sometimes, this can be as easy as putting a couple of nails into your walls and hanging some stunning wall art.
You can keep it simple and add one or two large pieces of art or go bold and hang a variety of different framed photographs to create a unique gallery wall. Either way, you'll be making a powerful statement. As for the choice of colors, photos, and layout, this is completely up to you, so feel free to play around, experiment, and let your creativity and personality shine.
Wrapping up
Focal points don't only capture the attention – they also add a flair to a room and make its overall design feel more attractive and put together. Whichever option you choose to go with, a focal point will certainly make your interiors appear as if they were styled professionally.