Crystal ceiling fans & lights
---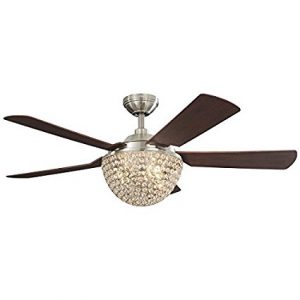 My pesonal favorite ceiling fan with crystals that looks stunning and is fantastic value for money too. The fan has three speeds and is supplied with a remote control for your convenience. Some light assembly is required to put it together, which should not take too long. The fan blades are a lovely shade of chocolate brown with a brushed nickel finish that looks beautiful and with the crystal shade, the overall look is dazzling and impressive. The only score I give could this light and fan is five out of five!
The dimensions are;
Height 14.6″ x depth 11.3″ x width 26.3″
26.6 lbs
2 lights
Casual/Transitional style

Brushed nickel finish

5 chocolate color fan blades

Crystal shade

Assembly required
Rating 5.0/5.0
Amazon price today

$204.99
---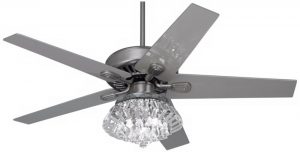 If you are looking for a crystal fan light for your bedroom with that touch of elegance and glamour, then this is for you! Finished with a crystal shade, five silver blades and a brushed steel housing. This light is perfect for a master bedroom or a dining room instead of a chandelier. The fan is operated by a pull chain, but you can buy a remote control separately if desired. The motor has three speeds and has a lifetime warranty.
The dimensions are;
Height 12″ x width 52″
1 light
Contemporary style

Silver finish

5 silver fan blades

Crystal shade

Assembly required
Rating 5.0/5.0
Amazon price today

$379.99
---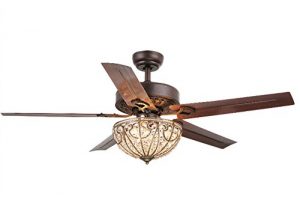 This is my third choice of crystal ceiling fan light and it is beautiful looking too, with five brown metal fan blades, four lights and a crystal shade. Self assembly is required, which should not take too long and then you will have a antique looking fan and light in your room. I give this gorgeous ceiling fan light the same score of 4.6 and second place in my review.
The dimensions are;
Height 15″ x depth 15″ x width 23″
21 lbs weight
4 lights
Tiffany style

Bronze finish

5 brown fan blades

Crystal shade

Assembly required
Rating 4.8/5.0
Amazon price today

$216.28
---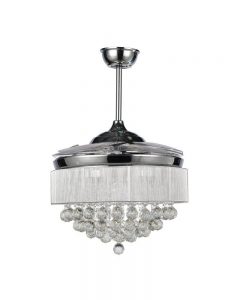 I love how the fan blades automatically open when the fan is turned on and there is a remote control with this model too. The ceiling fan light requires self assembly, but the manual is generic and putting it together can take anything from two to eight hours. The light does look fantastic and it draw lots of attention just for the folding fan blades. The current price of this product is about right for the design and stylishness it has.
The dimensions are;
Height 19.3″ x depth 42.5″ x width 19.3″
2 lights
Modern style

Crystal finish

4 fan blades

Metallic grey shade

Assembly required
Rating 4.5/5.0
Amazon price today

$325.00
---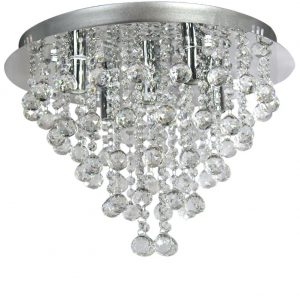 The final crystal ceiling light in my review has five lights with hanging crystals in wonderful Art Deco style. The self assembly required can be lengthy and tedious, so bare this in mind, but the light does look very beautiful when installed. The chandelier ceiling light does look stunning and will add that extra bit of sparkle to your home. The fan blades and mounting are available at an extra cost.
The dimensions are;
Height 12.6″ x depth 17.7″ x width 17.7″
12.1 lbs weight
5 lights
Art Deco style

Polished chrome finish

Crystal and stainless steel material

Assembly required
Rating 4.5/5.0
Amazon price today

$99.99
---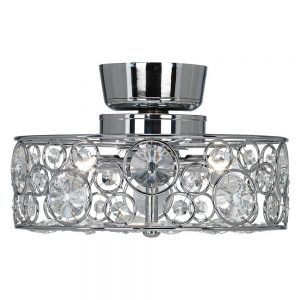 This is a ceiling light and a beautiful looking fixture that will really be a focal point for a dining or living room. The crystals mounted in the light create superb reflective shadows across a room. The fan blades and mounting are available at an extra cost. Installation is required to setup the light with mounting hardware and instructions included, there is an option at an extra cost for expert installation.
The dimensions are;
Width 10″ round
3 lights
Traditional style

Crystal and chrome finish

Crystal and metal material

Dimmable
Assembly required
Rating 4.3/5.0
Amazon price today

$200.00
---
The best of the rest
Still not decided on what you wish to purchase or require more to choose from, then do not fret, here are the best rated by category on Amazon.
How about a crystal table lamp for your living room, dining room or bedroom? Read my crystal lamps guide here!
---
How to clean your crystal ceiling fan and light fixture



Dirty or dusty crystal ceiling fan lights fail to give off the atmospheric effects expected of them.  Proper care of your light is essential to achieving the full effect of the piece.  Follow these steps carefully while cleaning your crystal, and be sure to take great care of each piece as you clean.
Spray and drip-dry cleaning
This method of cleaning is good to remove dirt and dust every two to six months.  This method does not require the crystals to be removed from the fixture.
Switch off the power to the fixture and ensure that the bulbs are screwed in tight to prevent water seeping into the sockets.  For further protection, cover each bulb with a small sandwich bag and tie something around the base.  Pace a towel on the floor below the crystal ceiling fan lights to absorb the dripping cleaner.
For the best cleaning spray, you can either use a store bought crystal cleaning solution, or you can make your own.  To make your own, mix one-part ammonia with three parts distilled water, as tap water can leave marks on crystal.  Some crystal manufacturers believe that hot, soapy water is an effective cleaner.  Others suggest a mixture of one-part isopropyl alcohol to three parts distilled water.
Spray the crystal thoroughly so that the solution covers all surfaces of the fixture, but avoid any electrical components or exposed wire.  The fixture should remain stationary.  Let the solution drip off the crystals, cleaning the dirt off.  Spray the crystals with distilled water to thoroughly clean any remaining dirt or soap.  An alternative to letting the crystals drip dry is to wipe them dry with clean cotton gloves.  Once the crystals have dried, remove the bulbs from their sockets and use a soft microfiber cloth with cleaning solution to wipe down the light sockets.
Cleaning individual crystals
If the crystals have accumulated tough dirt and grime, the best option is to remove the individual crystals from the fixture and hand wash them.  Line a sink or basin with a towel to protect the crystals while washing them, then fill the container with warm water and dish-washing soap.  Line a second basin the same way, and fill with a mixture of hot water and ammonia.
Carefully remove the crystals from one section of the light at a time, taking note of where they are positioned on the fixture.  Take a picture of the fixture before you begin cleaning, as reference for replacing the pieces.  Wash the crystals gently in the soapy water, then rinse them in the ammonia mixture.  Wipe each crystal dry with a clean, soft cloth.  Take a similar cloth dampened with soapy water and wipe down each arm of the frame. Carefully hang the crystals back in the correct places.  Use a cloth or gloves to avoid leaving fingerprints.
---
I hope you enjoyed my article on crystal ceiling fans and lights? If you did please leave a comment below. Thanks for reading, Noi. The Bamboo Bazaar is a participant in the Amazon Services LLC Associates Program, an affiliate advertising program designed to provide a means for sites to earn advertising fees by advertising and linking to Amazon.com.
© 2017 The Bamboo Bazaar
---