Have you ever thought of buying eco-friendly and naturally beautiful bamboo furniture before? You might start thinking; after landing on this page. We have selected some of the best bamboo chairs and bamboo tables for you. Have a look at our reviews and the benefits of bamboo furniture at the bottom of the page to make an informed choice of what to purchase.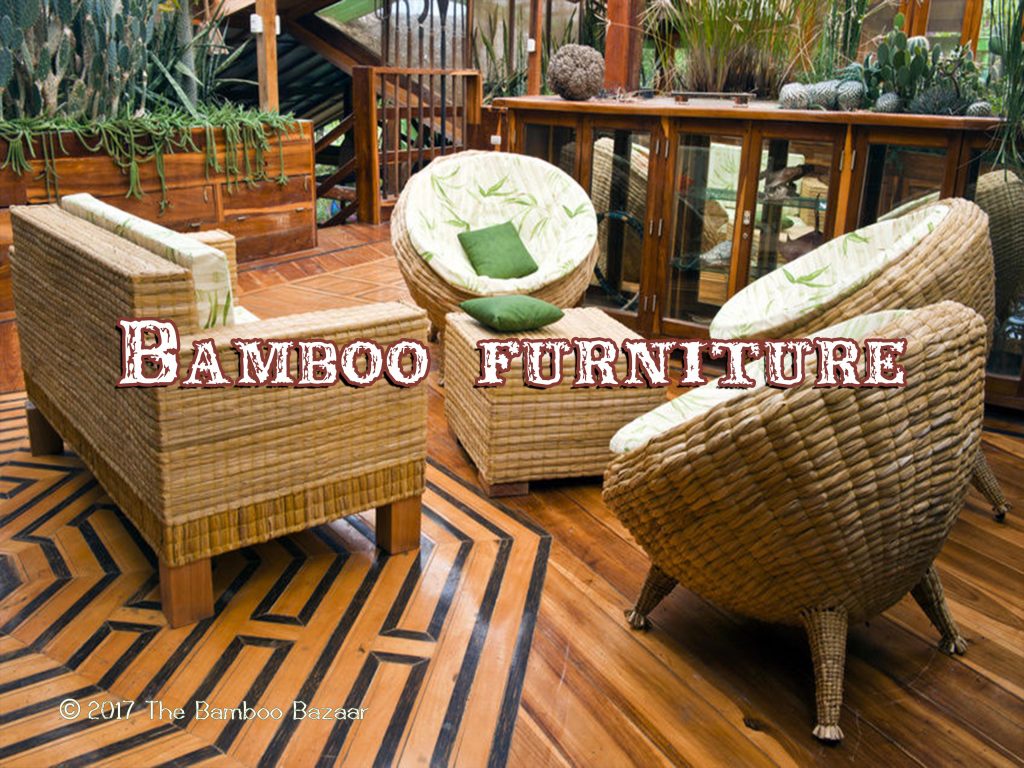 We picked the best bamboo blinds, bamboo chairs, bamboo tables, bamboo desks, bamboo coffee tables, bamboo shades and bamboo dining chairs from Amazon's huge online collection just for you! Let's take a look.
---
Top 3 Bamboo Chairs
1. Zew Handcrafted Bamboo Director's Chair
Our first favorite bamboo chairs are from Zew that come with treated comfortable canvas. These come as a pair and are good value too. With seven different colors to choose from and manufacturers guarantee, you can't go wrong with a pair of these for indoors or outdoors.
Features:
Renewable, durable and extremely strong solid bamboo.
UV protected canvas that is handcrafted and hand finished.
Sturdy, tall and ergonomically designed tensile bamboo frame with galvanized hardware.
Lightweight design and easy to set up.
Colors: Aqua, Black, Blue, Celadon, Green, Pottery, White, Red.
Crafted by ZEW.
Specifications:
Size: 23″L x 18″W x 35″H, Canvas Measures 24″L x 15″W x 1″H

Weight: 11 Lbs
Seating Capacity: 290 Lbs
Set of 2 chairs
---
2. Bamboo Recliner Chair
These bamboo recliner chairs are perfect for long summer days sitting on a patio for relaxing. The chairs come as a set of two, which makes them excellent value for money. They look tropical and are made from real durable bamboo. Ideal for living outdoors in the warmer months of the year.
Features: 
Set of 2 foldable chairs made from real bamboo.
Folds flat to save space.
Can be used indoors as well as outdoors.
4 sitting positions.
Specifications:
Size: 57″ x 27.4″ x 7.4″ inches
Weight: 39 lbs
Rating 4.8/5.0
---
3. Hollywood Chairs by Totally Bamboo
The Hollywood Chairs are one of those extravagant products people like to purchase just by looking at it. This is one of our best-selling bamboo chairs. It looks amazing and is as durable and solid as it looks. Let's quickly look at the features.
Features:
Made of laminated bamboo and polyurethane finish.
Foam padded seat with high density.
Foam padded rectangular backrest for great support.
Ergonomic curved arms for proper posture.
UV protected Stain resistant and Corrosion resistant.
Easy collapsible style for storage and transportation.
Available in black, green and navy colors.
Specifications:
Size: 28 x 25.5 x 45.5 inches
Weight: 29.1 Lbs
Comes in 3 sizes: 19″ / 27″ / 32″
Rating 4.6/5.0


---
Top 3 Bamboo Tables
1.Bamboo Corner Desk by Target Marketing Systems
While looking for the best bamboo tables to review, we found the Bamboo Corner Desk by Target Marketing Systems a good online find. It looks classic and has one drawer as well as one storage unit. It's not just another corner table. This bamboo desk is made from hard bamboo that is also high quality. It can be used in a workspace or personal space.
Features:
Comfortably fits in any home, studio, apartment, and office.

Can be used for desktop or laptop display; has enough leg space for comfortable use.
High-quality bamboo makes it easy to clean this desk with soap watered cloth.
Specifications:
Size: 

42″ X 28″ X 30″

Weight: 42 Lbs
Colors: Antique White, Black, Cherry and Natural Finish
Rating 4.3/5.0
Amazon price today [amazon_link asins='B005G86ITS' template='PriceLink' store='thebamboobazaar0c-20′ marketplace='US' link_id='ebb6b96d-0db2-11e7-85fe-61c9dab6aaaf']
---
2. 
Bamboo Coffee Table by 
Convenience Concepts
A Palm Beach collection by Convenience Concepts offers a multi-function bamboo coffee table. This coffee table can be reversed and be used as a regular table. It can also be used as a tray table. It comes with a chrome plated steel frame that makes the table sturdy and strong.
Features:
Removable/Reversible Tray for multi-use

Chrome Plated Steel Frame

Tempered Glass on top and bottom shelves
Specifications:
Size: 18 x 34.6 x 17
Weight: 44 Lbs
Colors:  Black, White, and Bamboo
Rating 4.3/5.0
Amazon price today [amazon_link asins='B009YIQNB4′ template='PriceLink' store='thebamboobazaar0c-20′ marketplace='US' link_id='3e4648d2-0db3-11e7-996a-75ba88e2a940′]
---
 3. Double Bamboo Ottoman by Convenience Concepts
This piece of bamboo Ottoman is elegantly crafted for multi-purpose use. It has a storage facility and can be used to keep light items. It has a double sided lid which means you can use it as a sitting table or you can switch the side and make it a tray table. This ottoman comes in slat and weaves design and single and double sitter.
Features:
Pure Bamboo body in weave and slat design.
Easy storage facility.

Double sided lid for multi-purpose use.

Comes in two sizes – single and double
Comes in two styles – slats and weaves.
Specifications:
Size: Slat – 7.8 x 17.8 x 18.1 / Weaves – 33.9 x 16.1 x 17.3
Weight: Slat – 10.5 Lbs / Weaves – 20 Lbs
Rating 4.2/5.0
Amazon price today [amazon_link asins='B00MHSTG3A' template='PriceLink' store='thebamboobazaar0c-20′ marketplace='US' link_id='8b3b0f36-0db3-11e7-81e7-f355c7ddc365′]
---
Top 3 Bamboo Blinds and Shades
1. Bamboo Roman Shade by Arlo Blinds
These Roman shades by Arlo Blinds are one of those products with most positive reviews. Made from pure bamboo, these blinds look extravagant and can filter light easily. They protect your home against heat and winter chill. Apart from the regular use, let's quickly see what features do these shades carry.
Features:
Comes with a Retro-fit kit recommended by the CPSC

Hardware for inside and outside mount included.

Lift cords are on the right side.
Specifications:
7″ Valance included
Inside mount 30¼ width or big (not included)
Size: Available from 16″ to 74″ sizes
Weight: Approximately 88 to 92 Lbs (varies)
Colors: 9 colors available
(For inside mount, please order a shade that is at least 1/4 inch smaller than the width of your window.)
Rating 4.5/5.0
Amazon price today [amazon_link asins='B001KM5MLE' template='PriceLink' store='thebamboobazaar0c-20′ marketplace='US' link_id='cc3769cf-0db3-11e7-8945-0f1e70162494′]
---
2. Bamboo Roman Shade by Radiance
This Roman Shade by Radiance is yet another popular-reviewed shades available online. Looks decent and is designed to provide privacy in homes. This shade comes in Maple color with variant sizes.
Features: 
Light filtering provides privacy and energy-efficient insulation qualities

Easily installed in minutes; hardware included

Made from hand selected bamboo

Comes in Maple color.
Specifications:
Sizes Options – 21″, 23″, 31″, 34″, 35″, 39″, 46″, 48″, 52″, 58″, 60″, 64″, 70″, 71″, 72″

6″ built-in Valance 

½" shade measured  less in width for inside mount installation
Rating 4.4/5.0
Amazon price today [amazon_link asins='B004DGJN00′ template='PriceLink' store='thebamboobazaar0c-20′ marketplace='US' link_id='0dd7f32e-0db4-11e7-aa7d-e5f13a8d63a4′]
---
3. Bamboo Roll-up Blinds by Oriental Furniture
This roll-up blind by Oriental Furniture is made from sustainable bamboo and gives your home a rustic look. These roll up blinds come in an earthy natural color and are available in 5 widths. The blind is very easy to install and comes with hardware. Blocking out most of the sunlight, this blind is a perfect choice for your home.
Features: 
Sustainable rustic bamboo, durable and double catch roll up hardware.

Easy to install.
Fits any window up to 6'ft long.
Specifications:
Sizes available -24″, 36″, 48″, 60″, 72″ 

Install on window frame, choose a size wider than window opening

Weight: 2 to 5 Lbs (depending on size)
Color: Natural
Rating 4.3/5.0
---
Best of the Rest
Still not decided on what you wish to purchase or require more to choose from, then do not fret, here are the best-rated categories on Amazon.
How about a rustic dining table or rustic coffee table for your living room, dining room or bedroom? Read on rustic dining tables and rustic coffee tables guide here!
---
Benefits of Bamboo Furniture
Wood, plastic, and metal are three popular materials that people consider for furniture. While three of them have their advantages, Bamboo is often overlooked but has many benefits to offer other than being environment-friendly and toxin free. Bamboo furniture is gaining popularity as they are both durable and eco-friendly products. There are two main advantages of buying bamboo furniture; one is they are affordable and the other they are durable than hardwood furniture.
Bamboo furniture is manufactured using one of the most sustainable and fastest growing plants. Technically speaking bamboo is a type of grass and is not wood which grows faster and is ready for harvesting in just a few weeks, whereas on the other side trees take few decades to get matured for harvesting. Isn't is amazing! Bamboo grows much faster than trees and is sustainable and affordable making it an eco-friendly and economical furniture choice for your home.
Bamboo tables and chairs create the organic environment in your home just like hardwood furniture and moreover, it can be beautifully crafted into finest designs like that of plastic and metals because of the natural flexibility of the material. The material comes with many natural features and has design versatility to fit most of the household themes and environments. The natural properties, unique look, and eco-friendliness of the bamboo furniture deliver unique benefits to the owners. If you are wondering what are the major benefits of the bamboo furniture? Continue reading this article.
Robust
Bamboo is considered strong and sturdy than hardwood furniture as it can support more weight than concrete can support. Asian countries have used this grass to build robust homes and bridges. Some countries have also used them for scaffolding in construction works, which proves that the strength of the bamboo is known for ages and is not a recent discovery. Today the bamboo is cut into strips and sheets and then laminated to increase the strength and toughness which equals to that of soft steel. Furniture made from such bamboo is lasted long for years while avoiding constant repairs and costly replacements. Bamboo tables and chairs made from this material can absorb a great deal of impact and can handle almost any weight.
All-Weather Resistant
The look of the hardwood furniture deteriorates with the time due to dryness and absorption of excess moisture. They swell due to the absorption of the moisture and shrink in dry weather conditions which means that they are not weather resistant. Whereas bamboo furniture does not get affected in size, shape and texture even when exposed to extreme weather conditions, making them ideal for both indoor and outdoor use. Since this furniture is not made from wood, it neither rots nor is attacked by termites which ensure peace of mind to the owner. This furniture is low on maintenance and only needs to be wiped with the clean cloth to keep them clean and functional.
Design Versatility
Bamboo furniture fits into both into contemporary and modern themed settings. The natural flexibility of the material makes it possible to mold into different shapes and fine designs. Bamboo can be bent and folded into squares and arches for both decorative and structural purposes. Traditionally heating and clamping method was used to mold bamboo into various shapes which are still in practice in bamboo industries for molding the material. This material is used for making the variety of furniture for both indoors, outdoors, restrooms and kitchens which include tables, chairs, desks, beds, drawers, floors and fences.
Light-weight
Moving homes is a tedious and tiresome task with hardwood furniture as they are quite heavy and need more than one person for moving. But furniture made of bamboo is light in weight and can be easily moved from one place to another without many efforts. Redecorating or rearranging furniture to match the themes is no more an arduous task with bamboo tables and chairs.
Appearance and Selection
Bamboo furniture is made of fine grain bamboo sheets and stripes. This furniture is available in many stains and finishes to match various styles and themes. The furniture made from bamboo has a stylish look and is available in elegant designs to enhance the look of your household settings. Today the furniture is available in the variety of styles and finishes unlike earlier. Modern bamboo furniture uses innovative designs that are either completely made in bamboo or use other composite materials. When choosing bamboo tables and chairs that best suits your household atmosphere is simple and easy from the great range of choice available on the market.
Environmental Benefits
Creating hardwood furniture involves cutting down trees resulting in wiping off the forests and jungles from the face of the earth. But unlike wood, bamboo can be regrown from the cut stalks and does not require replanting more and more bamboo plants. The bamboo plant grows faster than trees and reaches great heights in just takes a year to two. The bamboo can be harvested frequently to meet the demands of the material in furniture, construction, and other industries.
Bamboo Furniture Aftercare
Bamboo furniture can last long years while being clean and functional with minimal maintenance.
Regular cleaning of bamboo furniture which includes chairs, desks, tables, beds and shelves involves dusting with a soft cloth or a brush or with a brush attachment of the vacuum cleaner will remove the surface dirt deposited on the furniture. The edges and curves need cleaning with soft bristles brush to remove dirt deposits. Wiping the entire furniture with a soft cloth dipped in mild detergent water can refresh the look of the furniture. Do not use moist cloth on the rawhide bindings and hardwood parts of the furniture.
Annual Maintenance is required for the bamboo tables and chairs to remove the stubborn dust deposited that routine cleaning could not remove. Deeper scrubbing of the furniture with a soft brush may be required to restore the new look of the furniture. Use a soft brush with detergent to remove stubborn dirt particles and then wipe the furniture piece with the soft cloth to remove the traces of the detergent. Quick drying of the furniture will result from an increased life of the furniture. A thin wax coat may be applied on the bamboo to bring back the luster and shine.
A light stain on the bamboo furniture can be easily wiped away with the soft cloth and detergent. But deeper stains may require rubbing with fine-grit sandpaper. Once the stain is removed a wax coating need to apply in the stained area for protection purposes.
Read More on How to Maintain Bamboo Furniture