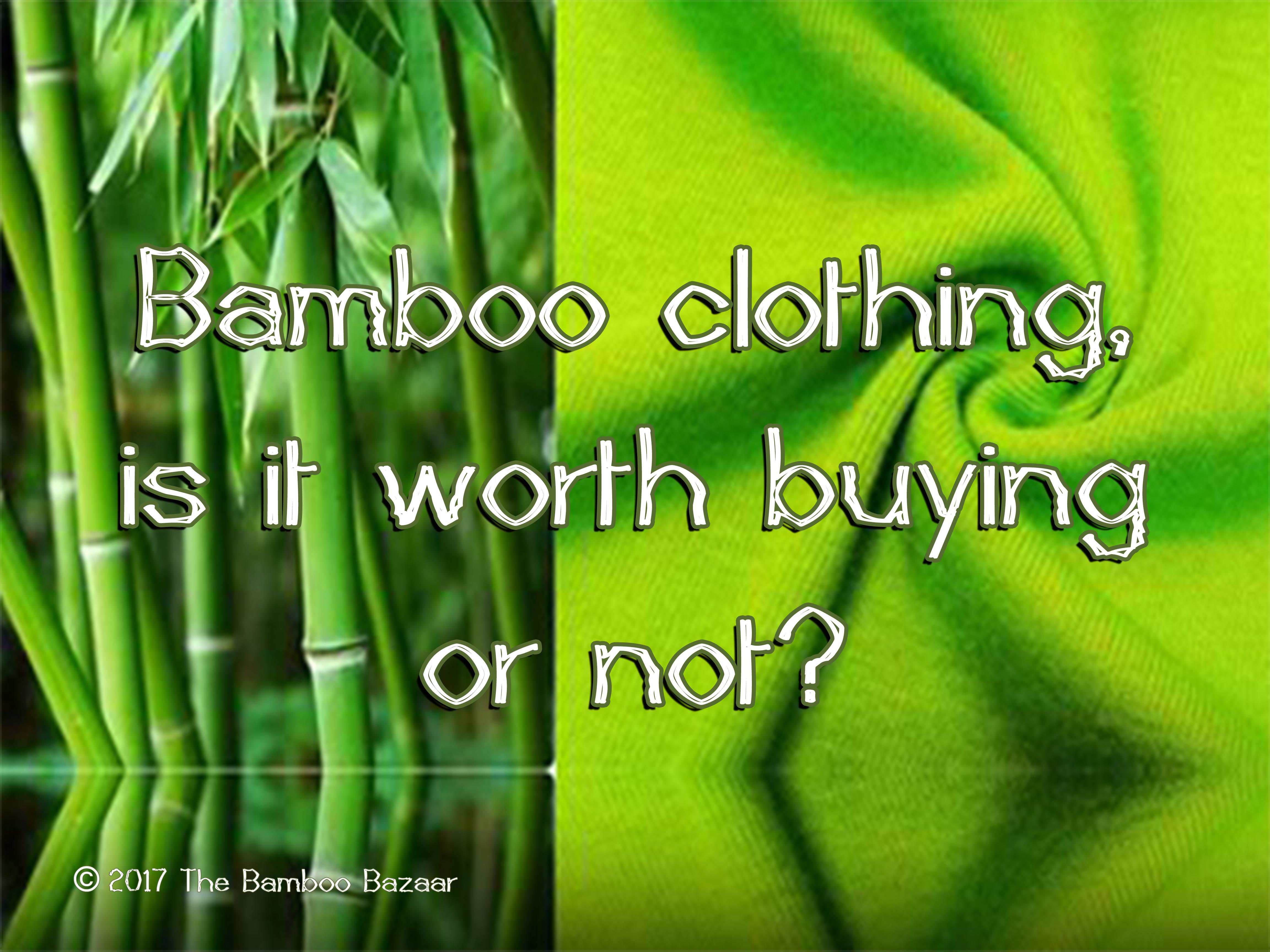 Bamboo clothing, is it worth buying or not?
Have ever tried bamboo clothing before? If no is the answer, then I'll tell you background information about clothing made from bamboo.
Is it organic?
Bamboo clothing is not as truly organic as it makes out to be, but it still has anti-bacterial properties and that's makes ideal for people with sensitive skin. Most of the bamboo clothing that you will online or in the shops will be "rayon viscose from bamboo", there are no 100% organic bamboo clothes. It is possible to make fabric from the inner bamboo stalks which would be organic, but at present there is no clothing mass produced using this method. Source The Epoch Times
So how are bamboo clothes made?
The fabric used for bamboo clothing is called "rayon viscose from bamboo" and this involves pulping the bamboo leaves into strands which then can be spun into fabric. The actual pulping process does involve chemicals such as carbon disulphide which is highly toxic, another solvent is currently being tested out called Lyocell, but at present it is not known if this is harmful to humans or not. Source Etsis
The qualities
You may be thinking that clothing made from bamboo is not very green and you would be correct, but most forms of fabric involve use of solvents and chemicals. Bamboo does have anti-bacterial properties and superb moisture wicking qualities which makes it ideal for allergy sufferers. I have found bamboo clothing and bedding to be excellent in regards to the moisture wicking when it's hot in the summer and it really does keep you warm in the winter months. As long as you don't take the eco-friendly bamboo fabric as being fact, then bamboo clothing is an excellent choice for underwear, socks, t-shirts and dresses.
My favorite retailers
Two of my favorite bamboo clothing companies are Yala Designs and Cariloha. Yala Designs have a huge collection of bamboo dresses with prices from $50 and up, I bought one of their bamboo dreams Marlow tunics in reef color last summer for $79. The dress has stayed true to its color and the fit is still true after many washes. The fabric is silky smooth and soft to the touch, if you are thinking on buying a bamboo dress check them out first of all here
On to Cariloha and their range of bamboo clothing. I bought a 2 in 1 dress from their website in aqua just before Christmas and it looks stunning, silky smooth fabric and hugs the figure really well. Cariloha also do a fantastic range of tops and underwear too, my boyfriend wears the bamboo trunks which he swears are the most comfortable that he has ever had. http://www.cariloha.com/
Conclusion
Bamboo clothing may not be for everyone, it depends if you want something slightly eco-friendly and anti-bacterial or prefer to go down the 100% organic route. From the perspective of a silky smooth fabric that has the wicking properties and it less prone to fade after repeated washes, then bamboo is an excellent choice. If you are concerned that it is not organic or eco-friendly enough, then maybe consider 100% organic cotton.