Shabby Chic Bedding Sets
To compliment your rustic shabby chic bedroom, you will need some shabby chic bedding. I have compiled a lovely assortment of shabby chic bedding sets, shabby chic comforter sets, quilts, and duvet covers for you.
Shabby chic bedding also looks good in a farmhouse, country, lodge, cabin, and western-style bedrooms.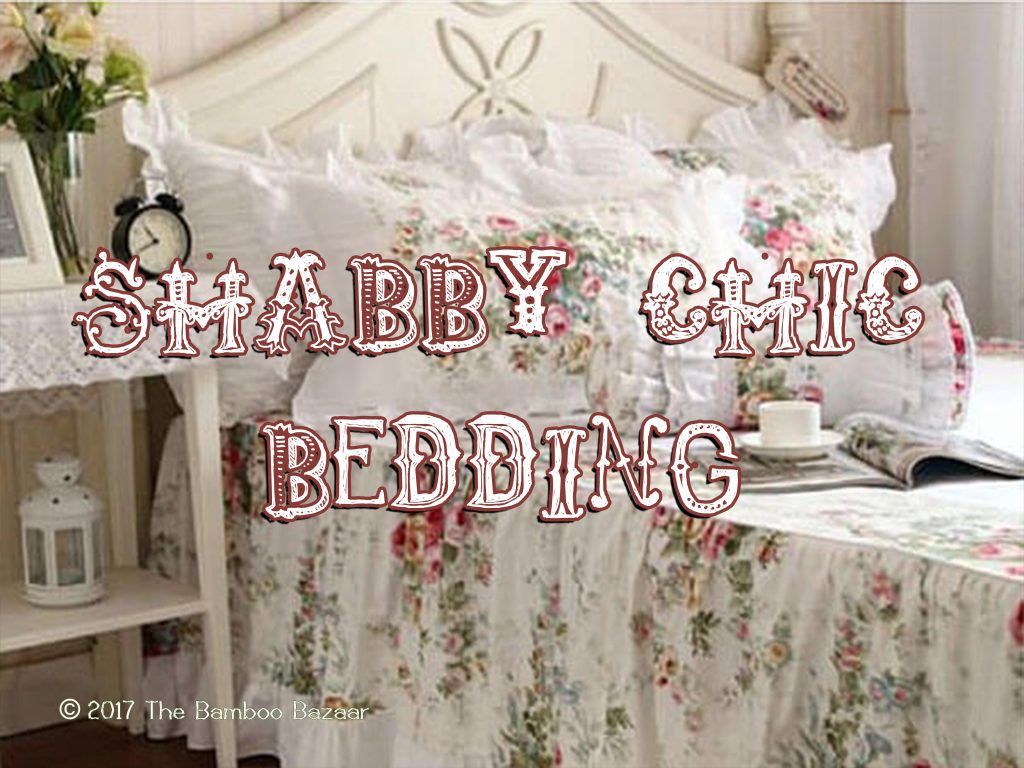 The colors of shabby chic bedding include colonial blues, mustard yellow, soft burgundy, antique white, seafoam green, soft coral, and creams. It's all down to personal preference and what the overall color scheme of the bedroom is.
Shabby chic bedding includes floral prints, Provencal style prints, paisley designs, and foulard's styles. The bedding can also include touches of denim, linens, and burlap. If you want to add some ambiance to your bedroom then shabby chic bedding will complete the overall look that you desire! There is no best or worst in this review, but each has been given a guidance rating out of five. There are six of the best shabby chic bedding that I reviewed for you, enjoy!
---
Fadfay Vintage Rose Bedding Set
My first choice and favorite pick is this elegant floral green and white 4-piece set. Made from soft 100% cotton in vintage floral rose and white colors, this is beautiful looking bedding. It brings a European vintage look to your bedroom.
The set is trimmed with white lace and ruffles perfect shabby chic bedroom. Available in four sizes with 1 duvet cover, 1 bed-skirt, and 2 pillowcases.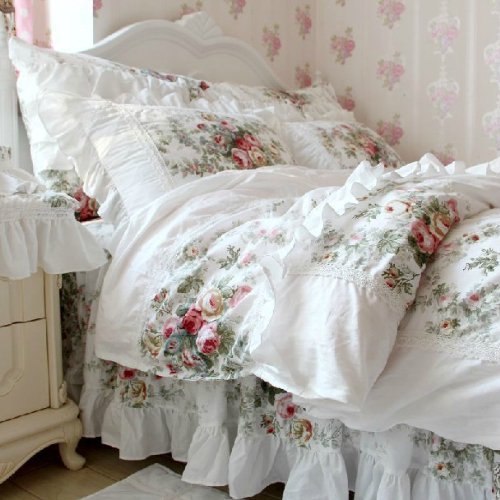 Product Feature:
Sizes: Twin, Full, Queen, King duvet cover
Handmade ruffles and bed skirt
2 x pillowcases
Vintage floral rose and white colors
100% hypoallergenic cotton
Rating 5.0/5.0
---
Finely Stitched Romantic Rose Bedding Quilt Set
This quilt set has a lovely shabby chic feel to it, very vintage looking and beautiful too. The set comes in 5 piece set; 1 quilt, 2 pillowcases, and 2 decorative pillows
It is 100% soft cotton and the quilt is cotton filled as well, the quilt is reversible and matching. Machine washed cold and it can be tumble dried after washing. A perfect addition to make your bedroom feel more romantic and adding extra ambiance.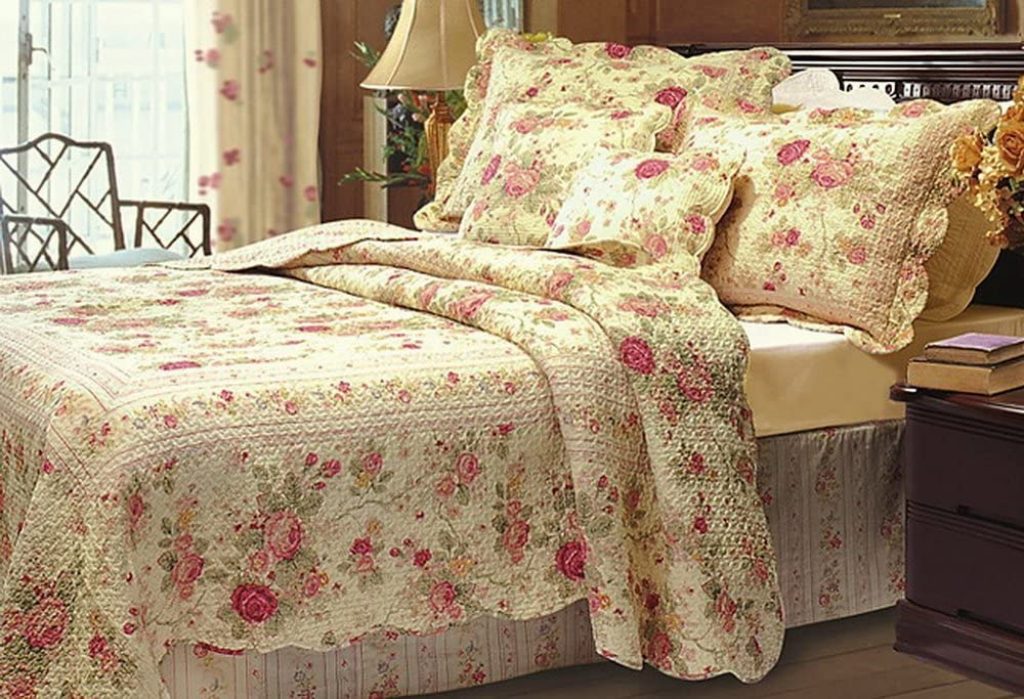 Product Feature:
Size: Queen and King
2 x pillowcases
2 x decorative pillows
Antique cabbage rose pattern and petite rose floral stripe, pink, green and golden cream colors

100% cotton
Rating 4.8/5.0
---
Laura Ashley Lidia Quilt Set
If you are looking for a splash of color and a quilt set that is heavenly, this is it! Everyone knows about Laura Ashley and the quality products they produce, this is no exception.
It has the perfect shabby chic cozy cottage look and comes as a 2-piece set; 1 quilt and 2 pillowcases, the quilt is reversible too. Made from 100% cotton, the quilt is machine washable and available in three sizes.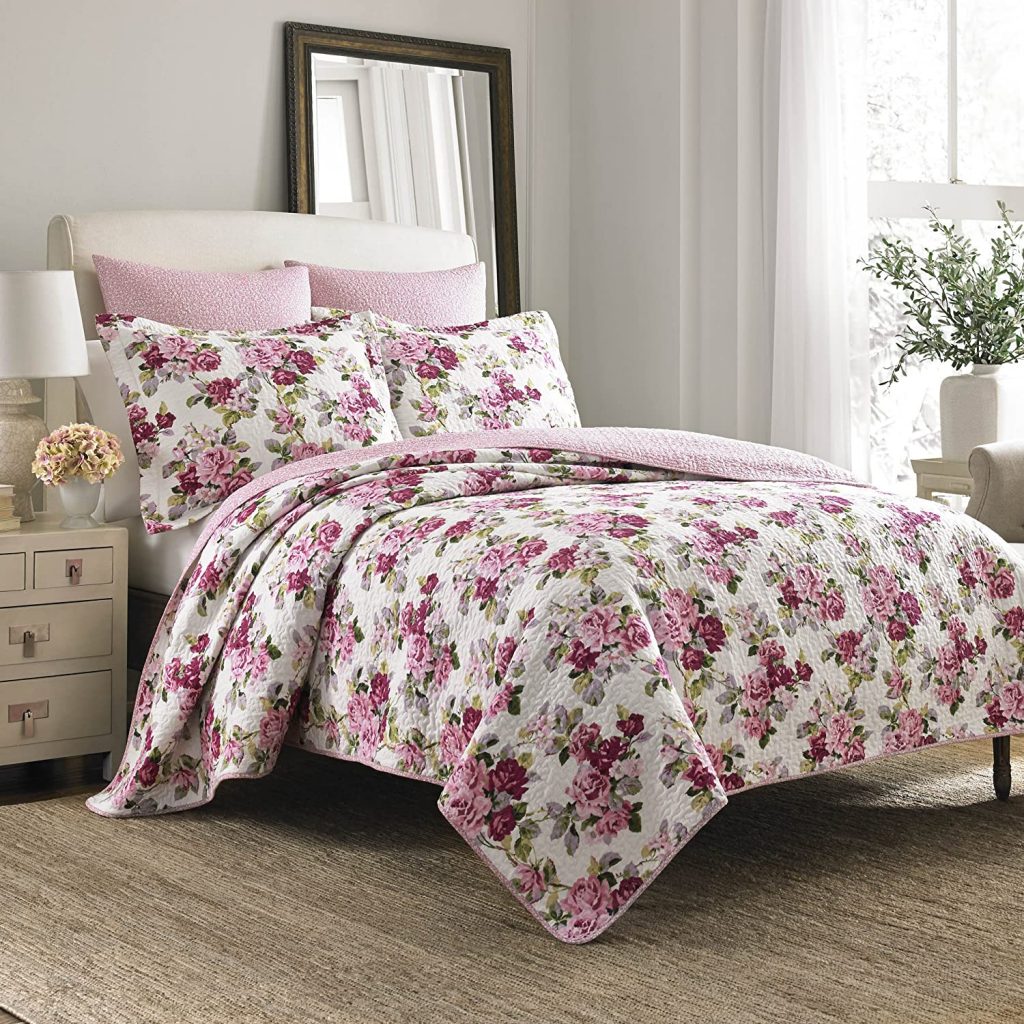 Product Feature:
Size: Twin, Full/Queen, King
2 x pillowcases
Pink rose and white colors
100% cotton
Rating 4.7/5.0
---
Chezmoi Collection Chic Ruched Comforter Set
Very pretty in pink and exceptional value for money; this 7-piece set is available in four sizes and comes with 1 comforter, 1 bed-skirt, 2 pillowcases, and 3 cushions.
There are two color options, silver-gray is one and dusty pink. However, the dusty pink will look best in a shabby chic bedroom. The set can be machine washed and tumble dried, the material is 100% polyester.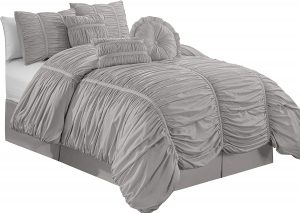 Product Feature:
Size: Twin, Full, Queen, King, California King
1 bed-skirt
2 x pillowcases
1 rectangle cushion
1 round cushion
1 bolster
Colors: Light pink, silver-gray
100% microfiber
Rating 4.6/5.0 
---
Madison Park Dawn Comforter Set
This set comes in two colors that accentuate the shabby chic look, seafoam-blue and coral! This is a good value comforter set with 9 pieces that include 1 comforter, 1 bed-skirt, 2 pillowcases, 2 Euro shams, and 3 decorative cushions.
The material is 100% polyester with 100% cotton filling and the set is machine washable. It looks very classy and elegant, perfect to add that extra sparkle to your bedroom.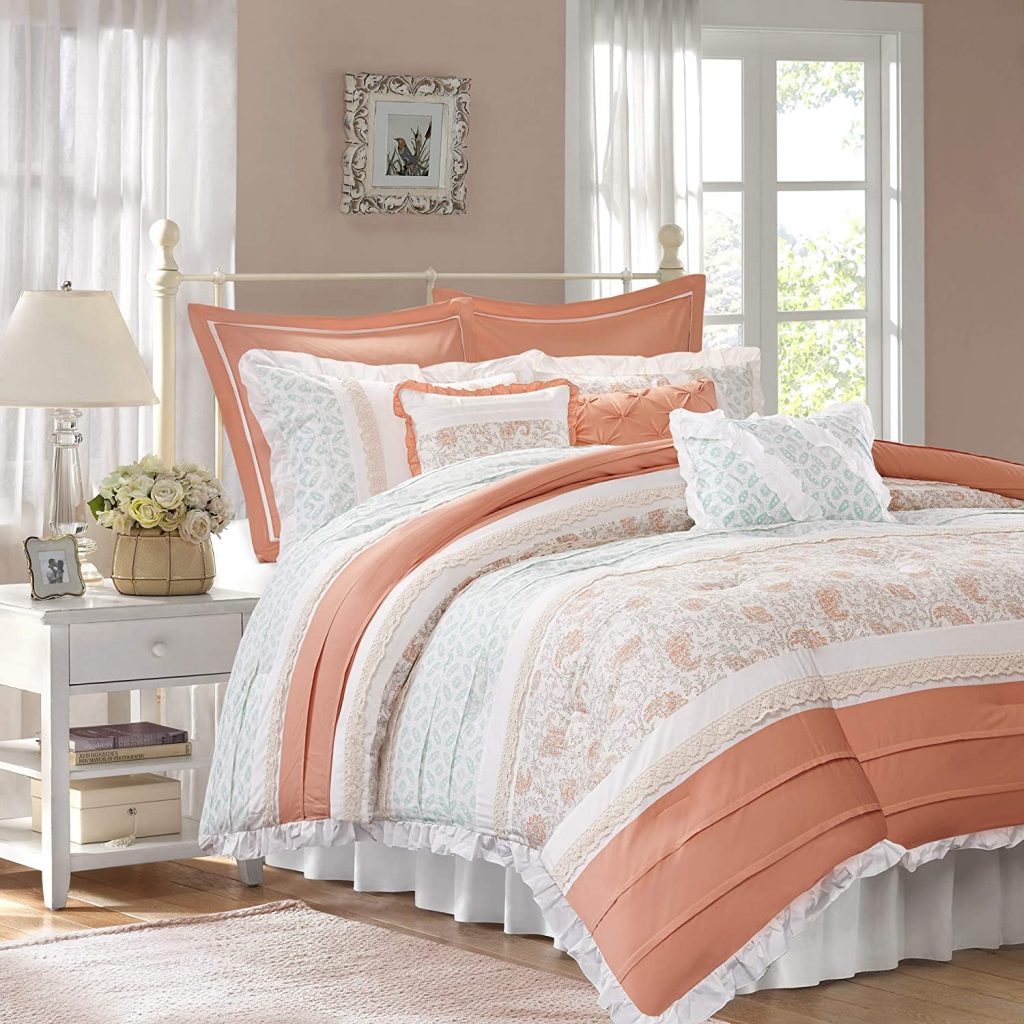 Product Feature:
Sizes: Queen, King, California King
1 x bed-skirt
2 x pillowcases
2 x Euro shams
3 x decorative cushions
Colors: Blue, coral
100% polyester
Rating 4.4/5.0 
---
Lush Decor Belle Comforter Set
This frilly and pretty comforter set is perfect for a girl's bedroom or a couple's bedroom. The set features layers of ruffles that cascade along to give a luxurious look, and at an affordable price.
The set is made from 100% polyester and requires dry clean. This 4-piece set comprises of 1 comforter, 1 bed-skirt, and 2 pillowcases. It's a small set but has lots of positive feedback and is ideal for a shabby chic looking bedroom.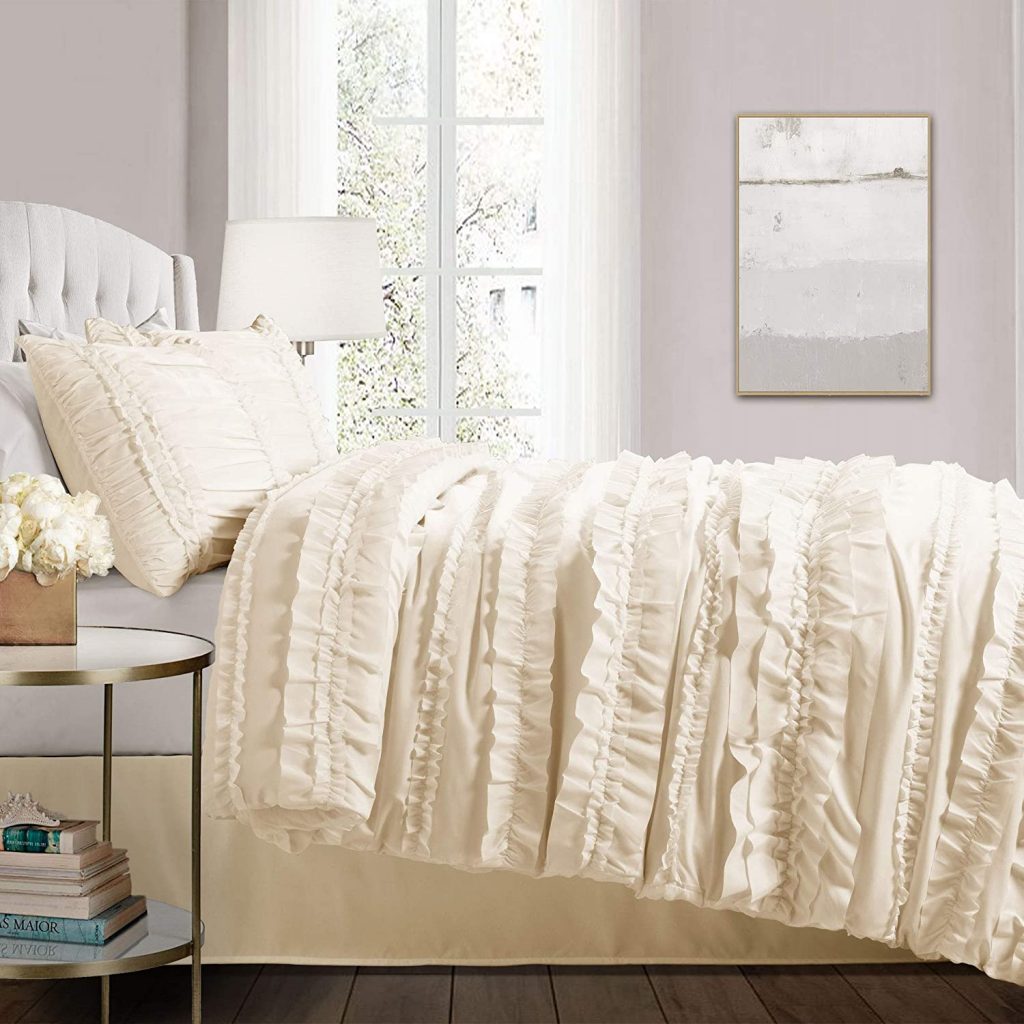 Product Feature:
Size: Queen and King
1 x bed-skirt
2 x pillowcases
Colors: Ivory and white
100% polyester
Rating 4.4/5.0 
---
The Best of the Rest
Still not decided on what you wish to purchase or require more to choose from, then do not fret, here are the best rated by category on Amazon.
If you want to know how to style your shabby chic bedroom, then have a read of my article here.
---
Taking care of comforters
Even as you enjoy your comforter, you need to know how to take care of it. Comforters are known hosts for dust mites and other debris, and continuous use increases your chances of getting an allergic reaction. To prevent this and keep yourself healthy, you need to know how to take proper care of your comforter.
Read the care label
Your comforter should have a care label containing cleaning instructions. Most down and down alternative comforters can be washed at home using mild detergent although there are some that can only be dry cleaned. Ensure you read the care label and follow the instructions.
Determine if the comforter needs to be cleaned
Comforters need to be cleaned once in a few months. However, it can be cleaned sooner depending on your needs. For instance, you might want to wash your comforter monthly if you have allergies. Also, you do not have to clean your comforter if the problem is a single stain.
Remove stains
You may have an accidental spill that leads to the formation of stains. When this happens, you do not have to wash the entire comforter but instead, focus on removing the stain. You can remove the stain using a non-detergent solution like woodlite and dilute it with a small amount of water. You can also use a home-made paste made of baking soda and water, baking soda and white vinegar in equal portions or carbonated water. You should shift the filling away from the stained area then apply a small amount of the solution to the area being treated. Blot the area using a clean white piece of cloth or towel.
You can also rub the fabric together to loosen the stain and rinse it with some water. Squeeze the excess water and blot using a clean white towel.
Loading the comforter into the washing machine
When loading the comforter, ensure it is evenly distributed in the washing machine. The comforter needs to have enough room for the cleaning to be thorough. If your washing machine looks small, wash it in one of the large washers at the Laundromat.
Machine settings
The washing machine should be on the delicate setting to prevent damage to the casing. The water temperature is chosen according to several factors. Use cool or warm water as indicated on the label. If you want to kill dust mites and do not have a dryer, use hot water. If you are concerned about damaging the fabric or color with the high-heat wash, use cool or warm water to wash it then the heat can be used in the drying step.
Detergent
Use a mild detergent when cleaning our comforter to prevent over-foaming and reduce stripping the feathers of down comforters.
Drying the comforter
Use a low-heat setting when drying the comforter. Kill dust mites using high-heat settings but read the label before you use the high-heat setting since some things might not withstand the heat.
Complete the drying process
Complete the drying process by hanging the comforter outside for a few hours if it is dry and sunny outside. Doing this will prevent mildew by ensuring it is completely dry and you can skip using the dryer if it is very hot and sunny outside. Fluff and rotate it every few hours to prevent the down from collecting on one side. You can also hang it on a drying rack in a well-ventilated area if the weather is not conducive.
---