Rustic Tables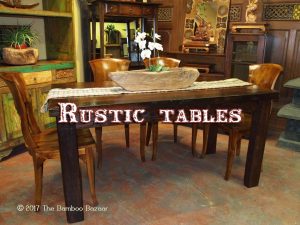 If you are looking for a rustic table to complement your dining room, then I have selected the best available online from Amazon for you. Rustic furniture can transform your room into something more rugged, earthy and natural looking. The furniture that I have reviewed will bring a more organic warmth and simplicity to your dining room, no pretensions, just beautiful tables!
I have covered most rustic tables including rustic coffee tables, rustic dining tables, rustic end tables and just about every other type of rustic table in this guide. There is no best or worst in this review, but each has been given a guidance rating out of five. There are eight of the best rustic tables that I reviewed for you, enjoy!
At the bottom of the page are some tips on how to maintain your table.
Ashley Signature Design Mestler Rustic Brown Sofa Table
This is my favorite piece of rustic furniture at present and I think it typifies what rustic decor should look like! This table has the appearance of a farmhouse piece of furniture that is so popular and trendy today.
The table is made from wood vaneers that are finished in a rustic brown color and the slats/drawers are in multiple rustic shades. The overall look of this table is fantastic and the drawer handles are in a aged bronze color that really finishes it off superbly. The table does require self assembly that should not take that long setup.
The dimensions are;
Width 62.5″ x height 19.5″ x depth 14.8″
81 lbs in weight
Rating 5.0/5.0
Amazon Price Today: $248.07
BeRusticCo Reclaimed Wood Desk Table

The last table in my review is a bespoke and fully customizable reclaimed wood desk table.
The table has been created with oak that was salvaged from an old barn in Kentucky and the table is made from the boards from the barn itself.
The desk table is finished off with original black iron pipes for table legs. This is a truly unique piece of furniture and it can take 11 to 15 days to manufacture. The table does require self assembly.
The dimensions are;
length 46 x width 22″ x height 30″
Rating 5.0/5.0
Amazon price today $669.99
---
Dorel Living Shiloh 5 Piece Rustic Dining Set
I love this dining table set with the contrasting table and chair tops, the creamy grey and dark mahogany finish is perfect for a rustic decor room. This comes as a dining set with a table and four chairs, making it excellent value for money too.
The table top has a distressed rustic wood grain finish and it will add elegance to light colored dining room. Light self assembly is required and full instructions are provided in the box. The table can fit up to six people and a pack of two chairs is available separately.
The dimesnions are;
Length 60″ x height 35.5 x height 29.5
133 lbs in weight
Rating 4.9/5.0
Amazon price today $516.65
---
Coaster 701128 Home Furnishings Coffee Table
I think this coffee table epitomizes the rustic look completely, the dark industrial style metal combined with the rustic brown wood is stunning! I think it will compliment any room, but if you are going for a rustic decor look, then this table will fit in with ease.
The wheels are functional and the wood is of the manufactured type, but don't let that put you off. There are two other tables in this range an end table and a sofa table, both are in the same style and color to match the coffee table.
The dimensions are;
Length 48″ x depth 23.3″ x height 18″

120 lbs in weight.
Rating 4.7/5.0
Amazon price today $260.85
---
Ashley Signature Design Larchmont Collection Dining Room Table
This elegant dark brown dining room table is large enough to place eight people, which is fantastic if you have a large family or for entertaining. The is constructed from particleboard with a veneer finish, self assembly is required and full instructions are included.
This is a timeless piece of furniture that will compliment any dining room with rustic decor. There are matching dark brown wood chairs with black upholstered faux leather cushions, these come as a set of two, you can view them here.
The table dimensions are;
Width

42″ x depth 90″ x height 30.25″

164 lbs in weight
Rating 4.6/5.0
Amazon price today $493.67
---
Coaster Country Style Coffee Table
I love the look of this rustic coffee table, the color of the wood is perfect and those wrought iron wheels are simply amazing! Light self assembly is required and that should take no longer than 20 to 40 minutes to set it up.
This table is very sturdy, made from real wood and metal, plus good value for money too. There is a matching rustic end table to compliment this coffee table, you can view it here.
The dimensions are;
Width 47″ x depth 31″ x height 16.5
85 lbs in weight
Rating 4.6/5.0
Amazon price today $326.80
---
Southern Rustic Logworks Rustic Log Coffee Table
This rustic coffee table is handcrafted in the USA and made from pine wood. This table has an authentic log cabin feel about it, complete with uncut edges. The table top and legs are manufactured with a single piece of wood. There are two other colors available, clear lacquer and unfinished. To compliment the coffee table there is a rustic end table too, you can view it here.
The table dimensions are;
Length 44″ x width 18″ x height 19″
25 lbs in weight
Rating 4.5/5.0
Amazon price today $160.00
---
Leick Furniture
Rustic Slate Hall Stand
How about a rustic hall table to place a potted plant on or maybe some of your favorite books? This hall stand is made from solid wood with distressed oak finish and has a distinctive running slate feature that adds to the overall rustic feel.
Light self assembly is required and the table should be complete within an hour. The dimensions are height 28.5″ x width 28″ x depth 10.5″ and 24 lbs in weight. There are other tables in this range including a wedge side table, coffee table, chair side table and lamp table.
Rating 4.5/5.0
Amazon price today $103.16
---
The Best of the Rest
Still not decided on what you wish to purchase or require more to choose from, then do not fret, here are the best rated by category on Amazon.
The best rated rustic dining tables
The best rated rustic end tables
The best rated rustic furniture
How about some rustic furniture for your bedroom? Read my rustic bedroom furniture guide here!
---
Maintaining rustic tables
Rustic is defined as "simple, artless, or unsophisticated."  Yet, none of these terms apply when you are talking about rustic décor.  In fact, the terms "fancy, stylish, and earthy" come to mind.  Rustic furniture purchased or made in a variety of colors and styles is unique and can be tailored to the personality of the homeowners.  Rustic furniture is timeless since it features solid construction, durable hardware, and gorgeous finishes.  When decorating a home with rustic furniture, the rooms will feature various textures, styles, and appeal that no other furniture style can give.  Because the furniture is built and designed to last a lifetime, protecting your purchase is imperative.
Selecting the right tools and products
Many people overlook the need to take good care of their rustic furniture purchase.  The care is simple, but very important.  Unless the furniture is properly cared for, it may warp, rot, crack, or get scratched.  These tips will help you keep your rustic furniture looking good for a long time.
Dust your rustic furniture with a soft, smooth clean cloth to which water or furniture polish has been applied. Never dust using a dry, rough cloth on your rustic furniture.  Using soap and water will warp your furniture over time.  Removing dust keeps the particles from scratching the surface of the piece and protects the wood stain and finish.
Every time you dust, use the same type furniture polish.
Using the same product will insure that no streaking or cloudiness occurs.
Apply a small amount of polish on your rustic furniture. Too much polish harms the surface and finish.
Protecting rustic furniture
While dusting and polishing your rustic furniture is the first step in proper care, the furniture must also be protected from external factors.  Here are a few tips to protect rustic furniture in order to keep the wood's natural beauty protected:
Be sure coasters are placed under all drinks and vases.  When condensation, spills, or water rings appear, clean them up immediately.  Rustic furniture absorbs liquids quickly.

When glasses and cups stay in direct contact with the wood, ring shaped stains develop quickly and are often permanent.
When water is on the rustic furniture, be sure to grab a soft cloth for cleaning up the mess.  Any rough materials will scratch the surface.

Always use a hot pad or trivet as a protective layer between warm dishes and the surface of the furniture.  Without this protection, spots may form and damage the wood's stain and finish.
Keep your rustic furniture out of humidity.  When rustic furniture is in a humid environment, the wood will expand and contract.  This will mar the finish or can cause the joints to become loose and unstable.
Sunlight may also damage rustic furniture.  The strong rays can cause the finish as well as the wood itself to deteriorate over time.
Following these tips on caring for and protecting your rustic furniture ensures that your rustic tables will last and provide make your home the elegant, sophisticated place you love!
---
I hope you enjoyed my article on rustic tables? If you did please leave a comment below. Thanks for reading, Noi. The Bamboo Bazaar is a participant in the Amazon Services LLC Associates Program, an affiliate advertising program designed to provide a means for sites to earn advertising fees by advertising and linking to Amazon.com.
© 2017 The Bamboo Bazaar