Have you always dreamed about designing rustic decors for your home? There is something really appealing about those mounted antlers and wood ring coasters and the overall warmth of colors a rustic interior will require. But how do you create a balance between the design and the practicality your home needs? 
Although such a balance might seem slightly difficult to manage, there are ways that you can create a great rustic look using some classic home design strategies. Below are a few tips you can use.
Choose Your Wood Tones
Wood is a staple of any rustic theme. While cabins may have various wood, elements exposed that create a contrast. You might choose to stick with one type of wood or one segment. For example, if you choose ash, you can probably pair it with cedar. Keeping a light, dark, or redwood consistency throughout the room or even your home can make a space feel more cohesive. It also gives you a foundation. Use your wood tones to choose other colors or find wood tones that work well with color that you've already chosen. 
If you have your heart set on a deep green quilt set, or navy sofa and lounger, then consider those colors when choosing your wood tones. Keep in mind that your wood-toned furniture such as bedside stands, end tables, coffee tables, shelving, and more will likely outlast fabric materials.
Repurpose, Restore, Reclaim 
Many people shy away from a rustic style because there seems to be a lot of investment involved. However, when working on your own or with a decorator, you can explore the option of repurposing. Going way past wooden pallets, you can reclaim sitting room chairs to design a headboard or repurposes an old table that needs a bit of sprucing up. 
There are many options available to bring in rustic charm without paying top dollar for furniture which was "weathered" in a factor. Instead, look at your options to reclaim old wood furnishings or repurpose worn down elements.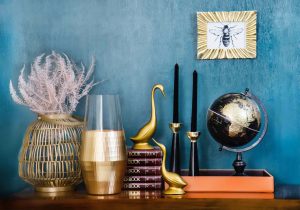 Bring in Metals and Various Textures
You will need something to break up your wooden elements and metals are where you can bring in some balance. For example, wrought iron can still feel very rustic, and it doesn't necessarily give any nod to modern times. However, if you choose to go with stainless, then you will have a very "compare and contrasted" element which may become a full look for you. 
Metals will play a part in any room, especially for ceiling installments, light switches, door knobs, mounted hoods, and more. In bedrooms, you can use metals to create a splash on nightstand drawers. Use hardware as an opportunity to pull the eye away from the wood, rich tones, and comforting patterns.
Textures are something else to consider when looking at ways to balance your room. You might give some thought to a textured wallpaper, especially if you want to contrast a completely wood-laden wall. Textured wallpaper is making a huge comeback and is more affordable and easier to work with than ever. Alternatively, if textured wallpaper isn't your thing, then consider tufted headboards, sofas, or ottomans. In the tufting is a great place to implement splashes of hardware. Choose tufted furniture like this
 which has chrome, gold, or brass buttons to offset the "too smooth" feeling that comes with a lot of rustic decor.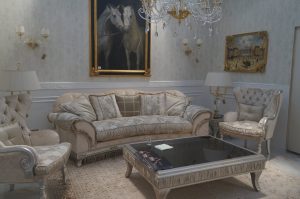 Be Purposeful with Your Lighting 
Believe it or not, but your lighting can say a lot. With the right lighting, you can create a Barry White moment, or a playful round of family games. Lighting does a lot for your everyday life, and you should use it to express yourself.
For bedrooms, use restored chandeliers or sconces that give a low enough light to relax, but also enough to dress properly and make a bed. In living rooms, use multiple light installments to give your rustic theme a shot of modern essence. Then in game rooms or man caves, you can't go wrong with custom neon lighting. 
Give your room the chance to be seen, and vibe in a way that most homes can't. Use lighting to your advantage and make it an integral part of your décor. Of course, a lot of lighting planning goes into the functionality of the room. However, when you're taking the chance to redecorate or recreate a room, then you should make it fun as well. Find eclectic, weird, or modern lighting elements to bring some modern elements into your rustic home. 
Layer Your Fabrics Naturally
There's nothing more flexible and interchangeable than fabrics. Look at your sofas, bedding, throws, and rugs. These are all aspects of home décor that you would love to last for years, but sometimes they just don't. Instead of sweating the small stuff, go with what you love now, but layer fabrics in a way that will rotate through the seasons. 
If you're decorating a living room, then consider going with something classic, soft, and comfy for your seating. Then look at mixing those up with pillows, throws, and rug. Pillows with metallic beading
or fringe can lend itself into the grey area which surrounds rustic décor and many other styles. Alternatively, you can choose fur-esque throws
or velvet is another favorite choice for those who love rustic décor. Velvet is also an opportunity to impart some glam into your primary living space. 
Now, if you're decorating a more intimate space, you might want to choose flannels, woven cotton, or even crocheted creations. When thinking of balance within a rustic bedroom, look through a few choices of modern quilts. Not only are they beautiful and versatile with many interior décor options, but they can last for an exceptionally long time.
Don't Be Afraid to Combine Styles 
Yes, you can pair rustic wood wall installments with chrome hardware and lighting fixtures. You can also combine stone and exposed beams with velvet tufted ottomans and gold art installments. The rustic style does have many well-known elements, but that doesn't mean that it's all or nothing. You can pull together many different styles, and as long as you're happy, that's what matters.
Recommended Readings