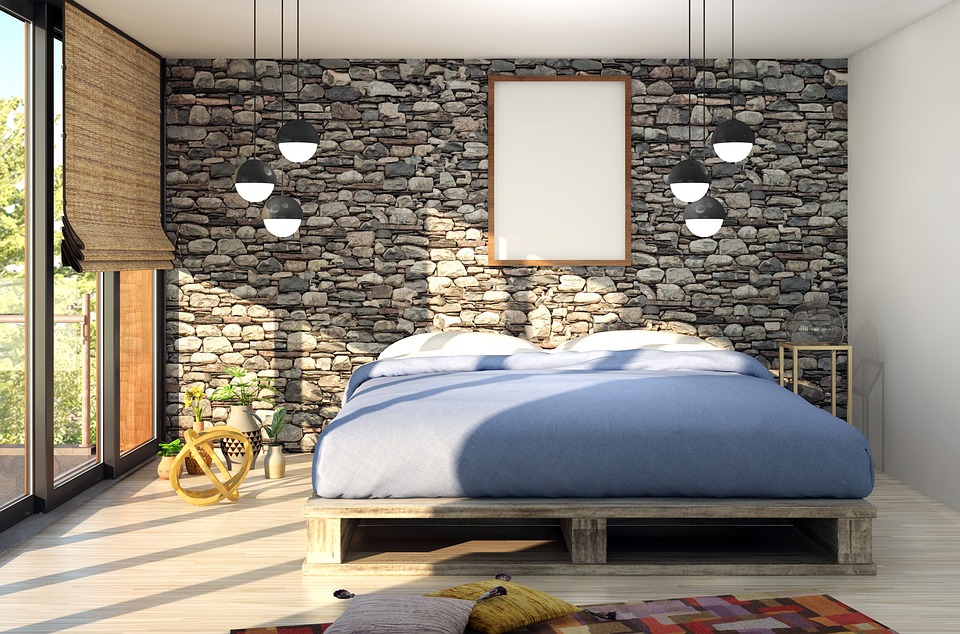 Your bedroom should be much more than the place where you crash for the night and then wake up and carry on with your daily routines. We often don't give our bedroom the importance it deserves and don't recognize the positive change it can bring in our lives – better sleep, better mood and better romance.
Creating a luxurious bedroom doesn't necessarily mean that you would need to make a huge investment. Few simple changes can mean a lot and can turn your bedroom into your ultimate place for relaxation.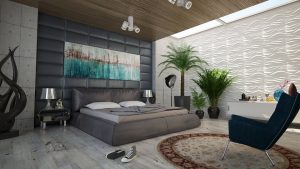 Give Life to the Walls
White walls in the bedroom can be quite boring and take away the character of the room. Adding a pop of color can help make your bedroom feel cozier and more inviting.
To decide which color you should choose for the walls, take a look at your furniture. Light furniture goes well with a deeper colored wall such as rich gray or deep red. If your furniture is dark in color, go with lighter colors such as warm beige or light gray. Alternatively, if you would still prefer to leave the walls white, add luxury wallpaper to one of the walls and your bedroom will gain a lot of depth.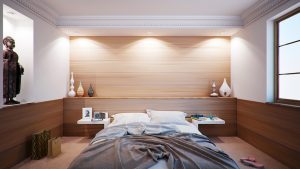 Think of the Headboard
The easiest way to make your bed go from "meh" to "wow" is by changing the headboard. Your initial thought might be that good headboards are expensive and the case can really be such. However, it doesn't need to cost you a fortune – look online for discounts or simply spend a bit of your time redoing your old one.
Overlaying your existing headboard with new fabric is an easy and cheap fix. Decide to spend a bit more on the fabric and in a few hours you can completely change the look of your bed and make it look much better.
Speaking of the bed…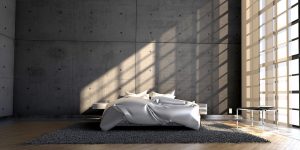 Invest in High-Quality Bedding
If you haven't slept on high-quality bed sheets yet, then you don't know what you are missing. Premium fabrics
can not only make your bedroom look better but also improve your sleep.
Luxury bedding's are a good investment – they will last much longer and they will not get ruined quickly due to washing.
Go For Hanging Lighting Fixtures
Lighting fixtures nowadays are very affordable yet they still bring unique glamor to your bedroom. If your bedroom is quite simple in design, a big ceiling light fixture can instantly make it appear much more upscale.
You can also go for matching ceiling and bedside lights. This will make the lighting layered and give your bedroom a simple but stylish boost.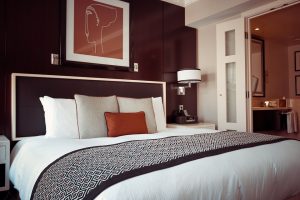 Go Big on the Pillows
You have definitely seen some lavish bedrooms on Instagram or Pinterest and thought "I really want to lay down in this bed". The trick here is the pillows
– they add a touch of coziness and make you want to jump into bed and forget about the world.
This is not a pricy investment – get yourself several smaller pillows with premium covers and just stack them up. Don't overdo it – the pillows shouldn't exceed a quarter of the bed length, otherwise, it will look overcrowded. Read our reviews on the top bamboo pillows here.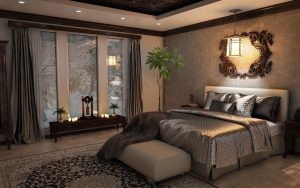 Go Green
Live plants can make any room more inviting in an instant. Considering the fact that green plants produce oxygen, they can be a perfect addition to your bedroom.
You can choose to go with small potted plants and place them on the dressing stand for example, or one tall plant that can even go in the corner and still make a big difference.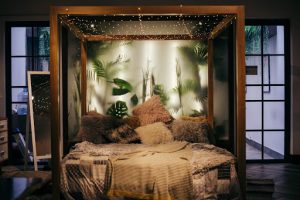 Think Outside the Box
Upgrading items that you already have can bring a breath of fresh air to your bedroom. Don't overlook old items as retro and vintage looks are trending again. Even if you have an old wooden chair that you think is good for nothing, you can turn things around with a bit of creativity.
Give that chair a good buff and repaint the surface. Place it in the bedroom and add a few statement cushions on it. You will be rocking the retro look in no time!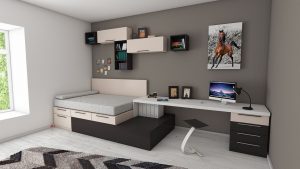 Decorate With Small Colorful Items
The statement decor pieces of your bedroom can be complemented by small colorful items which will make your bedroom look like a whole composition. Let's say you have an amazing painting with three dominant colors. Why not add more small elements in those colors?
Elements such as photo frames, clocks and small rugs can be the perfect addition and they don't cost a lot.
Creating a stylish bedroom might seem like work for a professional but it doesn't always need to be that difficult. The most important thing to do is decide which direction you want to go. Use what you have already, invest a bit in small items and you can create your luxurious bedroom that everyone will envy you on!