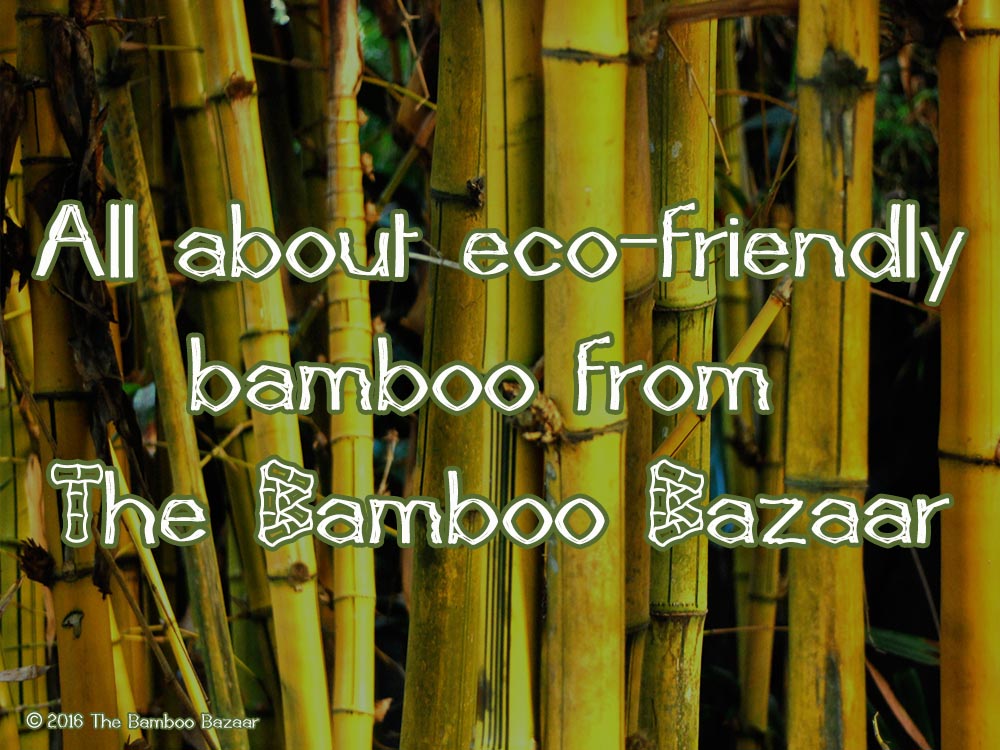 All about eco-friendly bamboo



Here are some reasons why eco-friendly bamboo should be your next choice of natural bedding or clothing for you and your family. The Bamboo Bazaar will be your only resource for reading about all the wonderful products made from bamboo and how sustainable this fantastic plant is!
Bamboo a natural resource
For thousands of years' bamboo has been used as a building material for obvious amazing reasons. As the contemporary world is becoming more environmentally conscious the use of modern construction materials is being replaced for traditional bamboo. There are myriads of reasons of using bamboo products. Some reasons for replacing modern material with eco-friendly bamboo include its practicality, cost effectiveness and because of its obvious ecological benefits.
Being a special natural resource bamboo benefits us in a number of ways. One of its amazing features is that is fast growing. It has been measured to grow as fast as one meter (39 inches) within a single day! Due to its fast growing nature bamboo groves can be easily replaced; thus using it does not imply to contribute towards deforestation. Moreover, eco-friendly bamboo can be grown in even in those areas where other crops cannot be grown. Bamboo is a versatile and sustainable material that necessitates hardly any water to grow thus is can be grown locally without the need to import. Biologists have discovered over 1200 different species of bamboo worldwide; they can reach over 98 feet/30m in height.
Benefits of using bamboo
It is a fact that a lot of products are accounting for environmental damage. There is a dire need for sustainable, earth-friendly and recyclable materials that do not cause environmental hazards. The main benefit of using bamboo is that it is environmentally friendly, grows fast, is grown organically without requiring pesticides or fertilizers. Bamboo has myriads of uses; over 600 million people worldwide generate income from bamboo and hundreds of millions of people live in a bamboo house. It can be used as a raw material to be used in rural industries like furniture, utensils, handicrafts and a bamboo house. Bamboo also is used in cooking; the shoots are not only edible but healthy food too.
Health benefits of bamboo
Bamboo breathes naturally and its material consists of very thin threads of fibers. It is now a well-established fact that the health benefits of bamboo are significant. It is a perfect source for the natural cure of asthma or lung problems, it is amazingly hypo-allergenic and anti-bacterial in nature.
Bamboo benefits for home ware
It's amazing how many products can be produced from eco-friendly bamboo in a much better way than other traditional sources. Bamboo grows in a hollow structure which is very efficient and is used all over the world for building and scaffolding. Bamboo's strength-to-weight ratio is a lot better than that of mild steel which implies that it is stronger than steel. So for a structural application, you need less, which is always better for the environment.
Furthermore, bamboo can be processed into a fabric to manufacture underwear, t-shirts, socks, towels and other home ware. But eco-friendly bamboo fabric is processed with solvents that include caustic soda and carbon disulphide that is associated with some health problems. However, bamboo still has a much lighter environmental impact as compared to conventional cotton or petroleum-derived polyester. Textiles manufactured out of bamboo have natural antibacterial, anti-fungal and odor resistant properties, requires less dye and are as soft as cashmere. So it does outweigh cotton in advantages.
Bamboo is also used to produce bamboo mattresses, bamboo pillows and bamboo sheets. Bamboo sheets are considered to be naturally soft and durable as they are made from strong fiber. Likewise, bamboo sheets are also strongly durable. They have twice the tensile strength of cotton. Moreover, they become softer the more you wash them. The best part of using bamboo sheets and bamboo clothing is that both are naturally resistant to pest and fungus infestation. Bamboo fabric is known to naturally kill bacteria and reduce inflammation. Hence it accounts for perfect bedding for those having sensitive skin.
Surprisingly, bamboo can be used to create products for home decoration. Bamboo decor will make your home eco-friendly and different. Products such as mattress covers possess a wide range of foams and gels for the support you desire. Bamboo home décor and bamboo bedding is highly recommended for people suffering from allergy, asthma, lung problems, breathing problems, snoring and sensitive skin issues.
Summary of eco-friendly bamboo
Using bamboo products is synonymous to healthy, sustainable and eco-friendly living. There is almost everything you can replace from modern environmentally threatening products to organic bamboo that is both sustainable and eco-friendly. Moreover, its health benefits are also numerous and irreplaceable. Bamboo possesses a unique combination of eco-friendly and health benefits. This makes bamboo standout as a superb resource for the 21st century and beyond. Green living does not have to be expensive either, although many bamboo products do cost more, they will last longer and they feel great to wear or sleep on, items such as furniture are extremely eco-friendly too1
When it comes to comparing cotton sheeting and bamboo sheeting, the benefits of bamboo are crystal clear. Cotton leaves a footprint to produce while bamboo does not leave any footprint. Other materials such as polyester are man-made produced with harmful chemicals that cause damage to the environment, this is worth bearing in mind. Bamboo is biodegradable, so it leaves no footprint and is kinder to our planet. So bamboo at home definitely accounts for the ideal choice for you and your family. This is the reason why we have selected the best products to review on this website.
If you would like to know some more about bamboo then try these websites, http://www.bamboobotanicals.ca/html/about-bamboo/bamboo-facts.html and https://en.wikipedia.org/wiki/Bamboo.
The Bamboo Bazaar is a participant in the Amazon Services LLC Associates Program, an affiliate advertising program designed to provide a means for sites to earn advertising fees by advertising and linking to Amazon.com.
© 2016 The Bamboo Bazaar