Bamboo can be used in a whole variety of different use's like bedding, furniture, sunglasses and for this article, bamboo diffusers !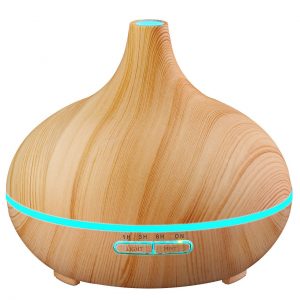 A diffuser is a perfect way to fill a room with sweet and lovely aromas from essential oils like lavender. Using bamboo instead of plastic or wood is much kinder to the environment and that is what we are promoting on this site, sustainability.
I have selected the 7 best bamboo diffusers that we can find online today, each has our own rating and a review.
Diffuser of the Month – Artnaturals
We are proud to bring you Artnaturals  Diffuser and range of Essentials oil. Essential oils are tested for purity with no synthetic ingredients.


back to menu ↑
VicTsing 300ml Cool Mist Humidifier Ultrasonic Aroma Essential Oil Diffuser
Our second choice is also one of the best seller bamboo essential oil diffuser on amazon. This humidifier and essential oil diffuser is a piece of art in itself. Just check out how beautiful it looks. Comes in 5 different bamboo grain color. Top features are
Unique And Compact Design.

Large Capacity And Great Mist Output

Super Quiet

Adjustable Led Light

Time Setting

Extended Coverage
It can easily cover a 1500 sq ft home. If you are looking for a 1-3 joined room coverage, this is the perfect bamboo essential oil diffuser.
back to menu ↑
InnoGear Real Bamboo Essential Oil Diffuser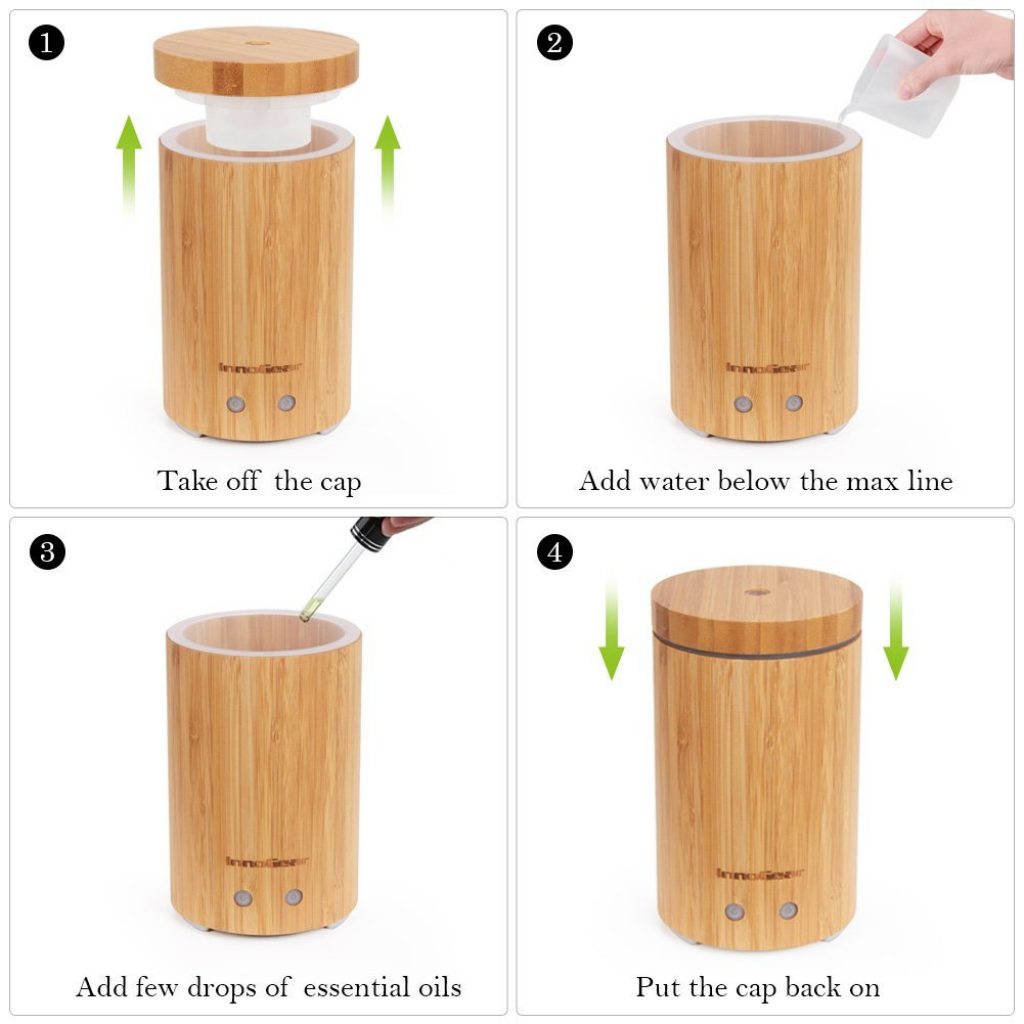 Our third choice of bamboo diffuser is by InnoGear, it is made from real bamboo and BPA free plastic. The diffuser has 4 modes and has a safe auto off function before it runs out of water.
There are 7 different LED light colors which can either fade in and out, stay in one color or no light at all. It is very easy to setup and light enough to be portable. The 4 settings and 7 colors makes this an ideal choice for giving your home an essential oil aroma that will smell lovely and perfect for relaxation.
Size, 4 x 4 x 8 inches
Weight, 1 lb
7 color LED light
1 year warranty
Rating 4.5/5.0
---
back to menu ↑
Red Silk Essentials Real Bamboo Wood Ultrasonic Aromatherapy Essential Oil Diffuser
Size, 4 x 4 x 6.2 inches
Weight, 8.3oz
Real bamboo & PBA free plastic
4 timer modes & auto shut off
Colored LED lights, , fade in and out, light on and off
Money back guarantee
Rating 4.3/5.0
---
back to menu ↑
ZAQ Bamboo Lite Mist Aromatherapy Essential Oil Diffuser
Size, 3.6 x 3.6 x 6 inches
Weight, 1.2 lbs
Real bamboo & PBA free plastic
2 timer modes & auto shut off
Colored LED lights, fade in and out, light on and off
1 year warranty
Rating 4.2/5.0
---
back to menu ↑
SpaRoom AromaGlobe Glass & Bamboo Ultrasonic Essential Oil Diffuser
Weight, 1.2 lbs
Real bamboo & glass dome
2 timer modes & auto shut off
Colored LED lights, rotating, solid color & off
1 year warranty
Rating 4.0/5.0
---
back to menu ↑
DUFMOD 150ml Real Bamboo Wood Diffuser for Essential Oils
Our seventh choice of diffuser is made 100% sustainable bamboo outer shell and is perfect for using with essential oils.
The diffuser has an auto shut off feature, so when there is no water left, the unit will power off. The LED light comes in 7 colors, so you select a color to enhance your mood or if desired the light can be turned off completely.
There are 4 different cycles you can choose from, continuous, 10 seconds, 1 hour and 2 hours, the mist will disperse for that amount of time.
The diffuser is easy to clean, small and portable, has an extra long power cord and the plastic components are BPA free. If you are looking for a bamboo diffuser this is the best choice available and is highly rated with lots of positive reviews, including us!
Size, 3.7 x 3.7 x 5.9 inches
Weight, 24oz
7 color LED light
1 year warranty
Rating 4.9/5.0
---
back to menu ↑
MOSPRO Real Bamboo Ultrasonic Diffuser with Wood Grain, Remote Control
In equal eighth place is the MOSPRO bamboo diffuser, again this is made from real bamboo and has BPA free plastic, which is less harmful to the environment.
One of the standout features with this product is the remote control which has a 13ft range. There are two modes for this diffuser intermittent, which runs for 30 seconds and stop for 30 seconds up to 14 hours, continuous mode runs for 7 hours.
The 7 color LED light can be switched between the various colors or turned off completely, this is made much easier with the remote control. It is easy to setup and use, light enough to be portable and fills the air with delicate aromas of essential oils.
Size, 4 x 4 x 8 inches
Weight, 9.6oz
7 color LED light
Remote control
1 year warranty
Rating 4.5/5.0
---
back to menu ↑
URPOWER 500ml Aromatherapy Essential Oil Diffuser 
Our ninth choice offers a harmonious and sober design as you can observe over here. It has three practical functions in one: aromatherapy diffuser, humidifier, and night light. One of its standout features is the advanced ultrasonic diffusing technology, which is capable of producing vibrations at a frequency of 2.4 million times per second.
What's more, it breaks the water and essential oils into extremely fine micro-particles without using heat. The special ultrasonic diffusing feature guarantees the integrity of the essential oils' beneficial molecular structure, allowing a healthy bodily absorption.
The diffuser also provides you with plenty of well-being benefits as it lifts the mood, relieves stress, covers the smell of pets or smokes, and protects families from excessively dry environments.
Size, 4.8 x 6.6 x 6.6 inches

Aromatherapy, humidifier and night light. 

Advanced ultrasonic technology

4 timer settings and waterless auto shut-off

500ml water capacity 

1 year warranty
---
back to menu ↑
Homeweeks Diffuser
Our tenth diffuser choice has an elegant, modern design, which matches any interior style as you can see here. It uses ultrasonic technology to continuously work for eight or ten hours while maintaining a quiet, peaceful atmosphere. When it runs out of water, it will turn off automatically to ensure your safety.
Another remarkable feature is the four time settings of 1 hour, 3 hours, 6 hours, and continuous usage, which you can select according to your personal needs.
There LED lights can also be cycled or set to a favorite color to match your mood or tastes.
Size, 5.6 x 6.4 x 6.4 inches

Adjustable, 7 color LED lights 

Adjustable mist mode

Waterless automatic power off 

Modern wood grain design

500ml capacity

Excellent mist output 
---
back to menu ↑
Bundle. Air Wick Essential Mist, Essential Oil Diffuser Refill, and Fresh Water Breeze
Our final choice is a bundle offering three diffusers in one combo pack including Air Wick essential mist, Fresh Water Breeze, and Lavender and Almond Blossom. The design is simple, yet elegant and practical as you can observe here. It features a blue light that will let you know it is on and operational.
3 products in 1 bundle 

Fragrance burst and pause duration

3 velocities 

Blue LED light

Compact and portable

Battery operated

Lasts up to 45 days
---
back to menu ↑
The best of the rest
Still not decided on what you wish to purchase or require more to choose from, then do not fret, here are the best rated by category on Amazon.
The best rated bamboo diffusers
How about some rustic furniture for your bedroom? Read my rustic bedroom furniture guide here!
---
back to menu ↑
What is an Ultrasonic Bamboo Diffuser?
Think of ultrasonic bamboo diffusers as devices that when powered electrically, expel essential oils into the air, purifying it and making it healthier. When the diffusers is plugged into a power outlet and switched on, a series of reactions is trigger, which initiates the breakdown of the molecules of essential oils, which are then diffused into the air in the form of negative ions, which in turn, bind to the harmful positive ions floating around.
How it Works!
Most ultrasonic diffusers work in a standard, set way. They first need to be filled with essential oil and water. The essential oils, since they are oils, float on the surface of the water inside the diffuser. Now, when the diffuser is plugged in to a power outlet, ultrasonic vibrations are generated which are used to agitate the water. This agitation causes a separation of the ions of water, and the negative ions thus generated, are then expelled out of the diffuser along with some traces of essential oils.
These negative ions, when come in contact with the positive ions in the air, bind to them, and thereby create a healthier environment. In addition, this also leaves the room smelling fresh and fragrant thanks to the essential oils released.
Why to Use an Ultrasonic Diffuser
As compared to other types of essential oil bamboo diffusers, ultrasonic diffusers do not use any heat, which helps preserve the therapeutic and health benefits of essential oils. What's more, ultrasonic diffusers are much easier to clean and use, and when used regularly, can improve overall health effectively and with minimal effort.
How do Diffusers Work?
Essential oil bamboo diffusers basically aim to create negative ions from the water fed to them, and expel it along with traces of essential oils. Now the methods that they may employ may be different depending on the type of diffuser, but all of them help initiate the breakdown of water into negative ions, and expel them along with small molecules of essential oils, which then improve the quality of air, add a touch of freshness to it, and also offer health benefits.
The essential oils and negative ions can stay in the air in your home for as long as a few hours, depending upon the density and amount of the essential oil used.
What are the Different Types of Diffusers?
Among the many different types of diffusers, ultrasonic diffusers are the most popular, since they make use of electronic frequencies to expel and disperse the negative ions. Other types of diffusers like cold air diffusers work by using the air at room temperature to blow oil into a nebulizer, where the oils are vaporized. Cold air diffusers are rather difficult to clean and maintain, which is why, they're not that popular.
You'll also find heat diffusers, and true to their name, they make use of heat to disperse the negative ions and essential oils. Evaporative diffusers are another kind, which make use of a fan to blow strong air through a pad or a filter that contains the oil.
Why are Ultrasonic Diffusers Better?
As opposed to other essential oil diffusers, ultrasonic diffusers are way better, and for several reasons, some of which are listed below.
They have high essential oil capacity.
They are easy to clean and handle.
They are super easy to use.
Their ability to disperse the negative ions and oils over a wider area is much better as opposed to other essential oil diffusers.
They have a high air saturation percentage.
They are able to break down any type of essential oils effectively, regardless of its viscosity.
Their air saturation percentage is high.
They do not make noise when in use.
The Benefits of Using Ultrasonic Diffusers
Essential oil diffusers have many benefits associated with their use, so if you haven't really considered getting your hands on one yet, now's the time to do it! This underrated device can do a lot when it comes to improving overall health. How? Let's take a look.
It helps purify the air and make it healthier by dispersing negative ions, which bind to the harmful positive ions and neutralize it.
It creates a calming and relaxing environment in your home.
It helps remove bad odor naturally.
Used in the bedroom, it can help get you in a calm and relaxed mode, which can help you sleep better, especially if you're prone to sleep disorders such as insomnia.
When used at work, it can help enhance concentration levels, boost productivity and improve mental clarity.
Regular use can also help tackle anxiety, stress and tension.
All in all, its use has been linked to improved overall health.
Quick Tips to Use an Ultrasonic Bamboo Diffuser
Using an ultrasonic diffuser can be tricky if you've never used one before, but that's where these tips come in. Follow these simple and actionable steps to do it right.
Fill the diffuser tank with some water (filtered or distilled) and a few drops of an essential oil of your choice, and place the cover back on. Ideally, 2-3 drops of essential oil works best for a small room, but for larger rooms, you can use as many as 6-9 drops of the oil.
Plug the diffuser into a power outlet and switch it on. Different diffusers may have different ways of turning the device on, so look for the instructions that come along with your device.
If you're using a diffuser for the first time, start by diffusing for 15-20 minutes a day, and then proceed to increasing the time for which you have it on.
Most ultrasonic diffusers allow all types of essential oils to be added, so go ahead and take your pick.
---