Bamboo Towel Reviews
Hi and thanks for visiting my site! If you are looking for bamboo towels then I have selected the best available online for you in my review.  The towels that I have reviewed are the best that money can buy and they will bring a more organic feeling to your bathroom!
I have covered the most popular bamboo towels in this guide. There is no best or worst in this review, but each has been given a guidance rating out of five. There are five of the best bamboo towels that I reviewed for you, enjoy!
At the bottom of the page are some tips on how to maintain your towels.
Quick Navigation to Reviews
---
ELuxury Ultra Luxurious Bath Towels
eLuxury.com owned and operated by a USA Veteran and is operating out of Evansville, Indiana. All the products from Eluxury are manufactured out of their facility at their headquarters in Evansville. If you are one of those who support locally produced Made in USA products that there is no better product than Eluxury Bath Towels.  Raw materials are ethically sourced and produced with superior quality and standard.
Premium Bamboo Bath Towels
Premium Ultra Soft Bamboo Cotton 6 Piece Bath Towel Set
Found in some of the top of the line luxurious hotels around the world. The towels are hypoallergenic, anti-fungal, and do not keep odors.  The towels are made from over 40% rayon from bamboo. Perfect for your home or giving as gifts. The set comes in 6 pieces of premium towels in variety of color. See the exciting color line available here
. We recommend washing it before use, as the fabric gets softer after each wash.
Buy on Eluxury Official Shop
Features:
6 Premium Bath Towel Set
40% Bamboo Rayon & 60% Cotton
Mildew-resistant, Anti-bacterial, Anti-fungal, Odor-Resistant
They are beautiful and soft. Service was extremely faster than anticipated. I decided to come to directly to their website to purchase more w/out even washing the first purchase based on their customer service and appreciative thank you card. Who does that! (✔️Verified Customer )

Premium Cotton Bamboo Towel Set – Ariv Collection
The Ariv Collection towels are made from 30% Natural Bamboo and 70% Natural Cotton. They are highly absorbent, are extremely soft and more durable than cotton. The bamboo towels are machine washable and get softer with each wash; they also dry very fast.
Ariv Collection
Premium Bamboo Cotton 4 Bath Towels
The towels are hypoallergenic, anti-fungal, and do not keep odors. Perfect for your home or giving as gifts. The set comes in 4 pieces of premium towels in grey color. We recommend washing it before use, as the fabric gets softer after each wash.
Features:
4 Premium Bath Towels
Grey Color
30% Bamboo & 70% Cotton
Mildew-resistant, Anti-bacterial, Anti-fungal, Odor-Resistant
Very soft, absorbent, and have a high quality feel. However, I purchased the duck egg color and they are definitely on the greener side, as you can see in my photo, and not the more blue-gray as shown. I'll still be getting these again though when I need more – Maria (Amazon User)

---
Ultra Soft Bamboo Towel Set –

Chakir Turkish Linens
Chakir Turkish Linens have made their name popular by presenting organic Turkish bamboo products. This bath set comes in 10 different colors and 6 pieces. For the price offered, It's the best deal available to buy. These premium quality towels are made from 35% Natural Organic Bamboo and 65% Turkish Cotton.
Turkish Chakir Linens
Luxury Ultra Soft Bamboo 6-Piece Towel Set
These towels are eco-friendly and get softer with each wash. They are completely chemical-free and made from natural dyes that are safe for you and the environment. This Turkish bamboo towel set is extremely soft. We recommend washing it before use, as the fabric gets softer after each wash.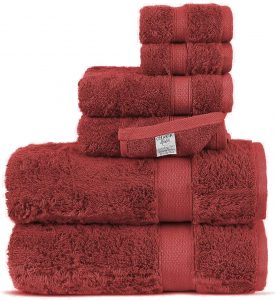 Features:
6-piece Set

10 Colors

Made in Turkey

Turkish Silk Cashmere
Mildew-resistant, Anti-bacterial, Anti-fungal, Odor-Resistant
More from the Seller:
Velvety Plush Bamboo Towel Set – Superior
In the collection, you will get 6 pieces; 2 bath towels, 2 hand towels and 2 washcloths. The towels are made of high-quality rayon from bamboo that is incredibly soft. The towels are highly absorbent and dry fast. Their soft texture makes the towels ideal for bathing, beauty care, and drying.
Superior
Velvety Soft 6-Piece Set
The Superior towels are hypoallergenic and anti-fungal. Being mildew resistant, there is no change in the growth of germs and odor. These sets come in 10 different colors. They are 60% combed cotton and 40% rayon derived from bamboo.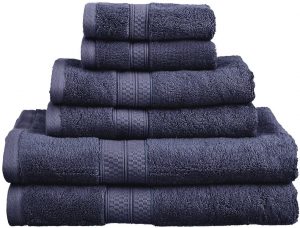 Features:
6-piece Set

10 Colors

2 bath towels, 2 hand towels, 2 washcloths
Mildew-resistant, odor-free
Machine washable
These are the best towels I have ever bought. The bamboo rayon/cotton combination is incredibly soft yet absorbent. They washed well with a minimal amount of lint still on the towels after the first wash. After the second wash, I felt no little lint balls at all on my skin. Like any quality towel, do not use fabric softener sheets in your dryer if you want the towels to remain absorbent and not become like teflon after multiple washings – JuneTex (Amazon User)
---
100% Bamboo 3 Pieces Bath Set – Bamboo Prince
The towels are made from Bamboo fiber that has anti-bacterial, anti-fungus, and deodorizing properties. It is resistant to mold and mildew and does not retain any odors. Bamboo fiber is one of the softest in the world, and the towels are softer than cotton. The fiber does not have any chemicals making the towels ideal for those who have sensitive skin. The towels are highly absorbent, and they dry fast when washed.
100% Bamboo
White Color 3 Pieces Bath Towel Set
Bamboo Prince Towels are entirely made from bamboo fiber and are not mixed with other fibers ensuring you enjoy all the properties of the bamboo fiber. The towels are extra thick and come in a white set of 3 pieces. You will get a bath towel, face towel, and washcloth.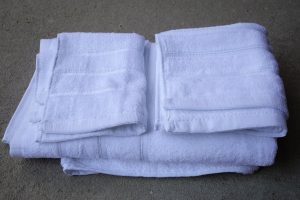 Features:
100% Bamboo
3-Piece Set
1 x Bath Towel, Face Towel & Washcloth
White color
Mildew-resistant, Anti-bacterial, Anti-fungal, Odor-Resistant
These are fabulous towels. Very very soft. After the first wash in warm water, I've only washed them in cold water, on the delicate spin cycle. Then I dry them on low heat for two hours. They've held up fine. These rarely need to be washed. They don't get smelly like cotton towels do – Linda (Amazon User)
---
Bamboo & Turkish Cotton Towel Set – Cariloha
Cariloha is a renowned brand and stands up to all its standards. They are a big brand in mattresses, bedsheets, towels and pillow covers. This 3-piece set comprises of 1 bath towel, 1 hand towel, and 1 washcloth. Made from 42% viscose from bamboo and 58% Turkish combed cotton, this set is odor resistant and highly absorbent.
Cariloha
Bamboo & Turkish Cotton 3 Piece Towel Set
It's extra-smooth, slightly twisted bamboo yarn is loomed perfectly to 600 grams per square meter and features an infusion of special silicon softener, resulting in an even softer, finer hand for increased bamboo-soft comfort.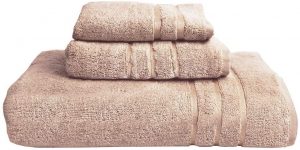 Features:
1 x Bath Towel, Face Towel & Washcloth
6 Colors
3-Piece Set
600 GSM
Odor – Resistant
I'm not kidding. Stop looking at reviews, stop wondering or doubting. Just buy them. You will not be disappointed. These glorious pieces of heaven I get to wrap around my body and suck up every drop of water while somehow staying dry themselves. It's magic. It's witchcraft. It's what you didn't know you were missing in your life – Verified Amazon User
The Best of the Rest
Still not decided on what you wish to purchase or require more to choose from, then do not fret, here are the best rated by category on Amazon.
How about some rustic furniture for your bedroom? Read my rustic bedroom furniture guide here!
---
After Care of Your Bamboo Towels
All of these bamboo towels need proper after care and need to be washed according to the manufacturers specific washing instructions. If you keep to these after care guidelines, then your bamboo towels will feel good and look good for years.
The towels should be given a day or two's airing to remove any packing odors and rinsed in cold or warm water.
Either hang them on a clothes line or lightly tumble dry them.
Colored fabrics need to be washed separately from white or natural colors.
Always wash bamboo towels from course or rough fabrics.
Bamboo towels are naturally soft, so fabric softeners will not be necessary.
Bleach will damage the bamboo fabric, so only use natural stain removers to treat any marks or stains.
Why Bamboo Towels are Better than Cotton Towels
Bamboo Is eco-friendly – One of the reasons that bamboo is much better for towels than any other material is because it is environmentally sustainable. Most fibers we use, when cut off for harvest, have their roots destroyed and thus need to be replanted. That is not the case with bamboo because the roots are not destroyed upon seasonal harvest.
Furthermore, bamboo uses much less water, sunlight, and nutrients to grow, giving it a higher yield per energy invested in its growth. Not to mention that bamboo regrows very quickly when it is pruned. Bamboo towels come from a completely natural source that is much better for the environment than any other option.
No Chemicals – Bamboo is very resilient towards climatic changes, diseases, and pests, thus eliminating the need for poisonous pesticides which can be harmful to human health. Sleeping on pesticide filled towels can be very dangerous, a problem which naturally grown bamboo does not come with.
Maintaining Good Body Temperature – People often get either too cold or too hot when they sleep under their cotton or synthetic towels. This can be due to the weather or because of extreme body temperatures which keep people awake all night. The advantage to using bamboo towels is that they wick away moisture from the body, thus regulating body heat to a good temperature.
Getting sweat and other moisture to move to the outside of the towels and quickly evaporate away means that bamboo towels will keep you warmer on cold nights and cooler on hot nights than any other linen.
Antibacterial – Bamboo towels are fantastic because they are extremely germ resistant. This means that germs don't like to grow on bamboo towels, and if they do they don't multiply very quickly. These antibacterial and antimicrobial qualities mean that people who use them run a much lower risk of getting sick from bacteria covered towels.
Resistant To Spots – Another great part about bamboo linens is that they are extremely easy to clean. These towels don't like to take on body oils or other stains, plus when they do they are very easy to clean off. This is great for people who don't like to do laundry all that often.
Bamboo Fights Allergies – Many people suffer from night time allergies such as sneezing, coughing, and swollen faces. These symptoms are often caused by mites and bugs in the towels. Bamboo towels are by far the best type of linen for resisting mites because bugs just don't like to nest on this type of material.
Real Comfort – Perhaps one of the biggest advantages to using bamboo towels is that they are much softer than most other toweling. Not only are they softer at first, but they also stay soft and silky for a much longer time when compared to other fabrics. You can wash and clean bamboo towels as much as you want and they won't get coarse or stiff.
---