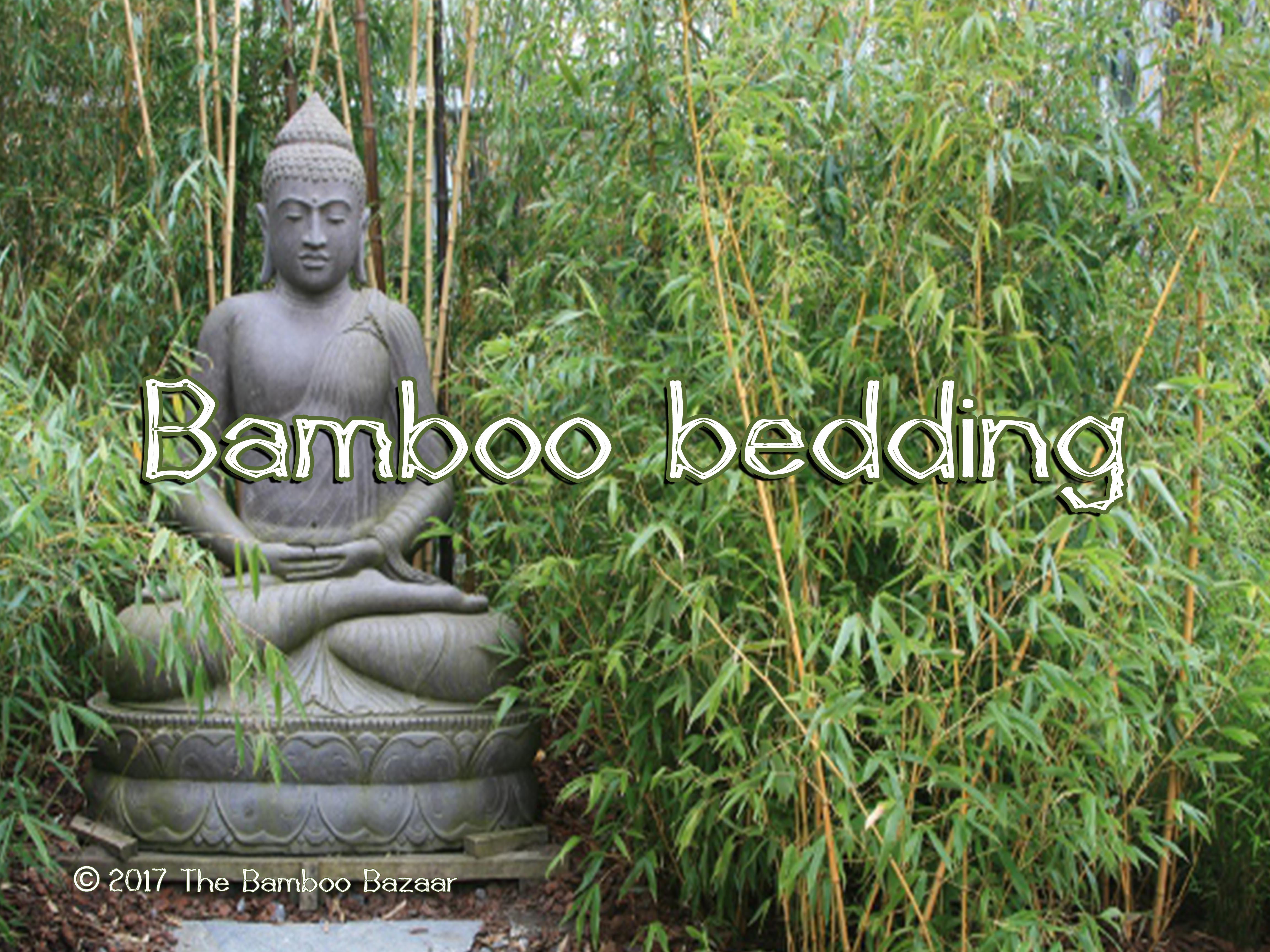 Bamboo bedding
When you think of bed sheets, pillow cases and mattress covers, you would normally think of cotton or polyester or maybe silk, but how about bamboo bedding? If you have read some of my other articles about bamboo, you will know that bamboo can be made into a fabric. There are differing opinions whether bamboo fabric is sustainable and eco-friendly or not, you decide which is best for you and your eco-consciousness!
Types of bamboo fabric
1. The most common type of fabric to make bamboo bedding is 100% rayon viscose from bamboo. As I pointed in my bamboo clothing article this type of fabric does involve chemicals being used in the pulping process and the concern with this type of fiber is what happens to the waste after treatment. If you are looking for truly green sheets, then this type of fabric will not be for you. If you are not so concerned with the chemicals involved in processing the pulp, then these bedding items are silky smooth to the touch and they posses the moisture wicking qualities that bamboo has.
2. I discussed 100% bamboo Lyocell in my clothing article. The process of pulping the leaves into a fiber is the same as rayon viscose from bamboo, but instead use's non-toxic solvents. The bedding is even softer using this process, but not as widely available online or in the shops. You may have pay more and wait longer to get bedding in this material, but it's worth searching out for.
3. A mix of cotton and rayon viscose from bamboo is used in cheaper bedding sets. This mix of fibers is stronger, but not as eco-friendly or sustainable as cotton production use's a lot more chemicals, more water and more labor to produce the fabric.
4. The last option for bamboo bedding is bamboo linen, this fabric is produced the same way as hemp or flax linen. The bedding will not be soft and it also wrinkles easily, plus it will need ironing after washing and generally more maintenance in the long term.
Types of weave
There are two types of weave with bamboo bedding, sateen and twill. Sateen weave is the softest and most luxurious of the two, but it is more expensive than twill. More after care is needed with sateen as it can pill more easily and the washing instructions need to adhered to.
Twill weave is not as soft as sateen, but it is stronger and less likely to pill. In comparison, twill weave is a lot softer than cotton sheets and cotton/bamboo sheets. Twill is slightly cheaper than sateen bamboo bedding.
Types of bamboo bedding
There are three types of bamboo bedding items, bamboo sheet sets, bamboo pillows and bamboo mattresses.
The most popular bamboo bedding items are bamboo pillows, but as I discovered these pillows are truly made from bamboo. The filling in the pillow is made from memory foam and the pillow case is usually made from a mix of cotton and rayon viscose from bamboo. This mix of fibers is not ideal for hypo-allergenic benefits or eco-friendliness. Trying to find a bamboo pillow with a 100% rayon viscose from bamboo cover is very difficult, so I would not recommend one of these pillows unless they are.
I do own a bamboo sheet set from Cariloha and they are fantastic to sleep on. Again I would not buy any sheet set which has a mix of cotton and bamboo fibers as they will not have much benefit for the moisture wicking qualities. These sheets are very popular in the USA, but they are more expensive than regular cotton or poly cotton sheets. Normally these sheets should be washed in cold water, but always refer to the care guidelines. As discussed earlier, there are doubts to whether these bamboo sheets are eco-friendly and sustainable, so it's up to you whether you wish to purchase these or not. You can find organic bamboo linen sheets and bamboo Lyocell sheets if you prefer a more sustainable sheet set.
Lastly is a bamboo mattress, these have a bamboo cover and a memory foam mattress pad. I have not found any covers which are made from bamboo linen or Lyocell as yet, I'll update this article if I do. Lucid and Brentwood are the best brands to buy and with the best reviews, they do come at an extra cost though. If the mattress cover has been produced with mixed cotton and bamboo fiber then choose another product which is made from 100% bamboo.
I do have experience of bamboo sheets as I have a sheet set which rayon viscose from bamboo in a sateen weave, they are very nice and I will review them soon. I hope you enjoyed my article on bamboo bedding? If you did please leave a comment below. Thanks for reading, Noi.
© 2017 The Bamboo Bazaar