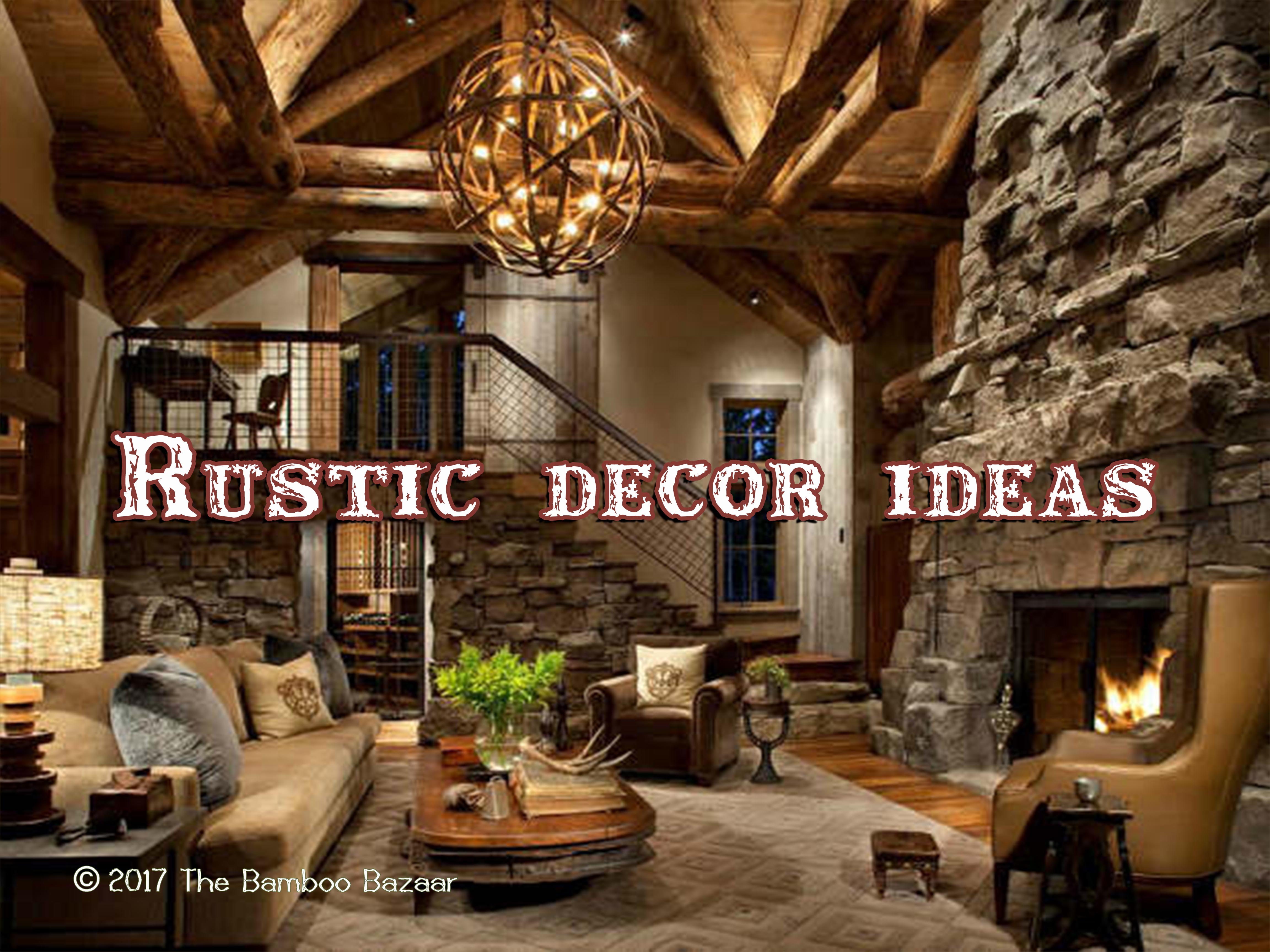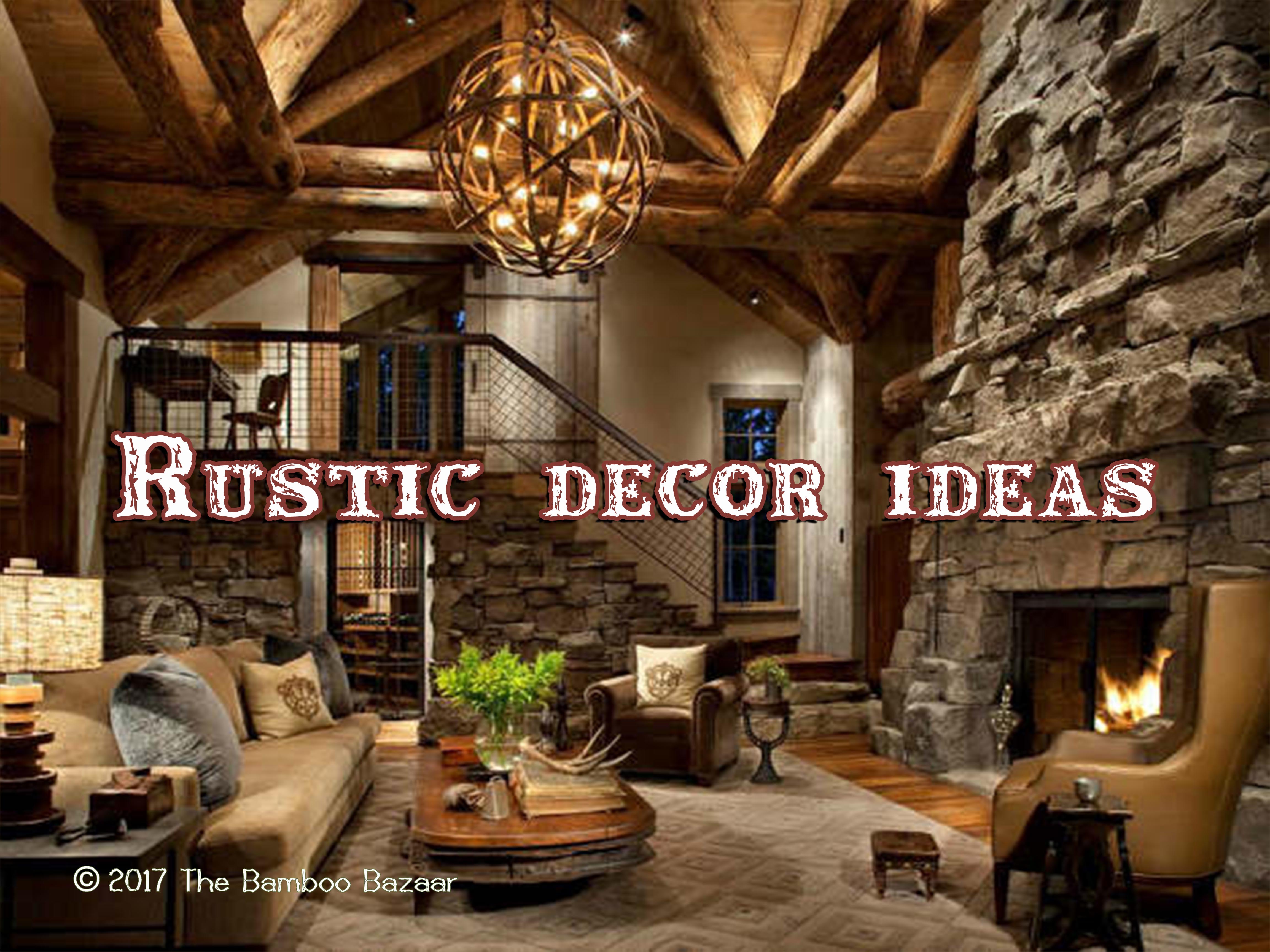 Rustic décor ideas
If you are looking for rustic décor ideas, then I will give you a few hints and tips on what to look for in this article.  Rustic décor is natural, rugged and very simplistic in its design, plus its look beautiful too!
You do not have sacrifice style or beauty with rustic furniture and it is a back to basics way of giving your home a brand new look. Whether you are looking organic furniture items or furniture that has been recycled, you can give your home natural elegance and style all of its own.
Rustic décor has that lived in look and feels more inviting, a farmhouse table or a rustic chandelier or maybe rustic coffee table has a unique sophistication about it. Even the word "rustic" has a warm and cozy glow attached to it. Interior design doesn't have to be bland and boring, straight out of the box from a major retailer.
Types of rustic décor
Wood furniture is part of the overall key in rustic décor; you can have bare wood, reclaimed wood and natural items such as bamboo furniture.
Rustic furniture can be natural, painted or stained, to give your home a more organic look you should stick to warmer and richer tones of color.
True rustic furniture should have the knots and natural grains of the wood still present, this will show the beauty of the natural wood and the craftsmanship involved in producing the item.
Many rustic décor items look like they would at home in a forest cottage or a log cabin or a tropical beach hut.
A few guidelines to rustic décor
Rustic interior design items should look worn or old; this applies tobrand new home ware. Many new rustic items have a worn effect applied when they were produced, you can even add crackle paint to give a new furniture that rustic charm.
A rustic color scheme will be natural or neutral hues such as cream, greys, browns and autumnal colors.
Painting is generally discouraged with rustic décor, exposed beams and stone walls is one of the ways you can highlight the natural charm of your home.
The overall design should look rugged and rough; think of the log cabin in the wilderness or that bamboo hut on a tropical island.
Natural fabrics and fibers should be used for sofas, cushions and curtains, simple fabrics like cotton, linen or natural bamboo is a great way to keep it simple and refined.
Reclaimed wood is the perfect material for rustic furniture and old piping makes for stunning looking lamps. Using reclaimed wood is an ideal way of being kind to the environment and giving your home the truly rustic look.
Rustic lighting such as Edison chandeliers and rustic lamps sets a warm tone for the lighting and compliments the overall rustic look with the wood furniture. The lighting should be soft and mood enhancing, rather than bright fluorescent bulbs.
A sprinkling of candles around the home will enhance the overall rustic ambience and bring the natural tones of the furniture and lighting to the fore.
Flooring should be natural, so if you have a carpets or tiles, then expose the natural wood or bamboo floors to enhance the rustic feel. You not should paint them, but try to refinish them yourself if they need a makeover.
A rug is a perfect way to compliment wood or bamboo flooring, the rug should be made from natural fibers and have warm hues to blend in with the rest of the rustic look.
These are just a few of the rustic décor ideas that can give your home a makeover that will inspire and look good for years. Rustic décor doesn't have to expensive either, if you are good at DIY then why not try yourself, if not browse this site for plenty of ideas that you can purchase online.
Our Recommended Rustic Decor Products
I hope you enjoyed my article on rustic décor ideas ? If you did please leave a comment below. Thanks for reading, Noi. The Bamboo Bazaar is a participant in the Amazon Services LLC Associates Program, an affiliate advertising program designed to provide a means for sites to earn advertising fees by advertising and linking to Amazon.com.