Rustic lamps & Edison lamps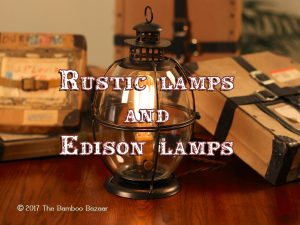 If you are looking for a rustic lamps to complement your dining or living room, then I have selected the best available online from Amazon for you. Rustic lighting can transform your room into something more rugged, earthy and natural looking. The lighting that I have reviewed will bring a more organic warmth and simplicity to your dining or living, no pretensions, just beautiful lamps!
I have covered most rustic lamps including rustic table lamps, rustic floor lamps, Edison lamps, Edison table lamps and Edison floor lamps. There is no best or worst in this review, but each has been given a guidance rating out of five. There are eight of the best rustic chandeliers that I reviewed for you, enjoy!
At the bottom of the page are some tips on how to maintain your chandelier.
---
I love the look of these rustic lamps with Edison filament bulbs, they typify the industrial rustic style that is gaining in popularity at present. The lamp base is inspired by the industrial past of iron handcrafting and workmanship. If you are looking for a lamp that stands out and will light up the room whole literally as they is no lamp shade, then this is for you! The lamp has a rust metal finish on the base and the cage with three exposed filament bulb fixtures. This lamp will look fantastic in a rustic decorated room or a retro industrial ispired room. If want something different and more unique looking in your home, this lamp fits the bill perfectly.
The dimensions are;
Height 30″ x base width 7″ x cage width 15″
12 lbs in weight.
Rating 5.0/5.0
Amazon price today
$149.95
---
This table lamp resembles an old fashioned oil lantern and has an antique resin finish. I think this lamp has a truly unique style to it, the distressed vintage finish and the natural color shade oozes rustic charm. The lamp has two lights, the main light with the shade and a night light where the oil would be in the lantern. If you are looking for table lamp that looks rustic and unique, then this lamp centainly ticks all the boxes. There is a matching floor lamp in the same style, you can view it here.
The dimensions are;
Height 26.8″ x width 8″ x depth 8″
10.6 lbs in weight.
Rating 5.0/5.0
---
I love the styling of this industrial rustic table lamp, the lantern design is ideal for a rustic or farmhouse decor look. The metal is finished in a bronze color with a natural color burlap shade with a clear glass lantern that houses a night light. The overall look of this lamp is retro with the uniqueness of the lantern design. The lamp uses an Edison filament lightbulb for the night light and will create a nice lighting ambiance to a room. If you have a coffee or end table with wrought iron detailing, then this lamp will perfectly compliment it. The lamp is quite big, so it will probably stand out more in a larger room.
The dimensions are;
Height 31″ x base width 10″ x shade width 18″.
Rating 4.9/5.0
Amazon price today
$169.99
---

This is traditional style rustic floor lamp is gorgeous to look at and has a lovely vintage finish in Etruscan gold with a brown faux leather shade. The lamp features pine cone detailing just below the bulb fixture which glows an amber color when you flip the switch twice. There is pine cone detailing on the base too and the vintage Etruscan gold color really gives the floor flamp a true rustic feel to it. This lamp will feel at home in a rustic decor house or a log cabin/mountain decor house. There is a matching table lamp with the same pine cone detailing and amber glow, you can view it here.
The dimensions are;
Height 65″ x shade width 19.5″
32 lbs in weight.
Rating 4.8/5.0
Amazon price today
$299.91
---
I first saw these Edison floor lamps at The Train Market, Ratchada, Bangkok in the fall of 2016. I love the industrial look of these lamps with the iron pipes and the Edison bulbs. This lamp features brushed metal pendant shades with an Edison filament bulb in each light and black iron piping with a reclaimed wood base. The overall look of this floor lamp is retro and heavy industry, almost like something you would find in a 19th century Victorian factory. The filament bulbs give off a warm amber glow that will give a subtle accent to light up the room. The lamp is handmade in the USA.
The dimensions are;
Height 70″ x width 20″ x depth 10″
25 lbs in weight.
Rating 4.7/5.0
---
I just love the look of this industrial style Edison table lamp. The design is similar to the Peared Creation Edison floor lamp, but this model has a copper pendant shade. The table lamp is made in the USA and constructed from quality materials. Each table lamp is handcrafted and unique which makes this perfect for a rustic dining or living room. The lamp is made from black iron piping with a reclaimed wood base and a rustic copper shade. Whether you are styling your room in a rustic or industrial decor, this lamp will certainly stand out and make an impression. There is a matching floor lamp in the same style and copper shade, you can view it here.
The dimesnions are;
Height 26″ x width 8″ x depth 14″
12 lbs in weight.
Rating 4.7/5.0
---
Another perfect table lamp that will suit a rustic decor dining or living room or even a bedroom. The lamp base in styled in a iron cage urn shape that houses a night light and with a natural color flared fabric shade. The night light is made from glass in lovely cozy champagne color, this lamp ooze's elegance and rustic charm. If you are using a natural color scheme for the walls, then this lamp will be ideal compliment. This lamp is excellent value for money, made from quality materials and it very manufactured.
The dimensions are;
Height 33″ x base width 8″ x shade width 19.5″.
Rating 4.6/5.0
Amazon price today
$99.95
---
If you are looking for beautiful rustic charm and exceptional value for money, then this table lamp is for you. Not only does this table lamp have a vintage antique rustic look, but it comes as a set of two. The lamp features a natural color shade and distressed brown wood base with distressed dark brown bands that resemble heavy iron. This lamp set has plenty of character, it is ideal for rustic decor inspired dining and living rooms. You could place one of these lamps on a rustic coffee table or end table to enhance the rustic feel of a room.
The dimensions are;
Width 14″ x depth 14″ x height 27″
18 lbs in weight.
Rating 5.0/5.0
---
The best of the rest
Still not decided on what you wish to purchase or require more to choose from, then do not fret, here are the best rated lamps by category on Amazon.
How about a rustic chandelier or Edison chandelier for your living room, dining room or bedroom? Read my rustic chandeliers and Edison chandeliers guide here!
---
Maintaining rustic lamps
Regular cleaning of your rustic lamp or Edison lamp will keep it looking new and working correctly. These tips will help you keep your rustic lighting looking good for a long time.
Metal cleaning tips
You should clean the metal on your lamp regularly with a soft cloth and use plain water or mild detergent soap. A liquid wax or a non-abrasive paste will provide extra protection. Make sure the cleaning cloth does not have any abrasive material on it
You should not use any abrasive materials or cleaners, products with alcohol and ammonia should not be used either. General purpose and glass cleaners should not be used as the chemicals will damage the lacquer or paint on the lamp.
Glass cleaning tips
You can clean the glass on your rustic lamp with a soft water dampened cloth or you can use a glass cleaner, but do not let the glass cleaner touch any of the metal.
Light bulbs can become dirty and dusty, so just wipe them down with a damp cloth, but remember to turn the light off first before cleaning the bulb.
Wood cleaning tips
For rustic lamps that have a wood base, you can use a smooth clean cloth to which water or wood polish has been applied. Never dust using a dry, rough cloth on your rustic furniture. Do not use soap and water on the wood as it can warp.
Fabric lampshade cleaning tips
You can clean your fabric lampshade with a microfiber cloth or a soft brush. A vacuum cleaner can be used if the dirt is more stubborn, the brush attachment to the vacuum cleaner will do the job, but be careful not to damage the fabric lampshade.
---
I hope you enjoyed my article on rustic lamps and Edison lamps? If you did please leave a comment below. Thanks for reading, Noi. The Bamboo Bazaar is a participant in the Amazon Services LLC Associates Program, an affiliate advertising program designed to provide a means for sites to earn advertising fees by advertising and linking to Amazon.com.
© 2017 The Bamboo Bazaar
---