Dreamcloud Mattress Review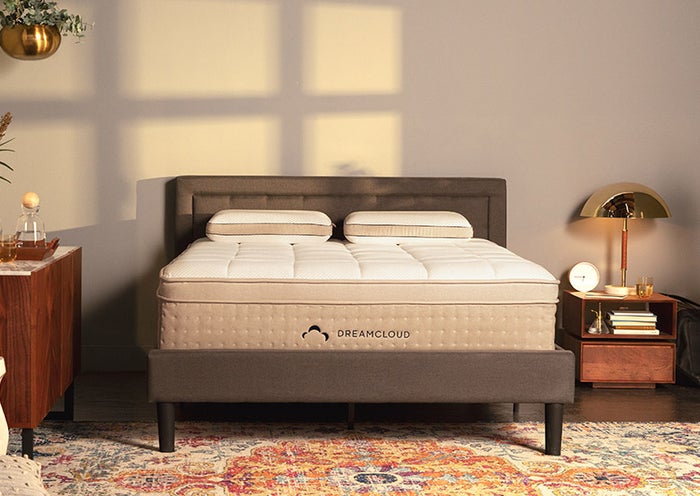 Dreamcloud Mattress Review
6-layer breathable and durable polyester fabric
Multiple sizes
Double-duty gel-infused foam for ultra-plush sleep
Great for side, back or stomach sleepers
Pocketed innerspring coil for cool comfort
Dreamcloud Mattress Review
At a first glance, Dreamcloud's Luxury Hybrid Mattress
is a fancy product with an elevated price tag. However, don't let this discourage you as this is a high-quality, multi-featured mattress worth the investment.
Dreamcloud's Luxury Hybrid Mattress is an ambitious invention, made of premium materials with the goal to ensure a pleasant slumber. Comfort meets advanced technology as each one of its 6 layers has a very specific function. You will definitely feel like you are laying down in a 5-star hotel's bed.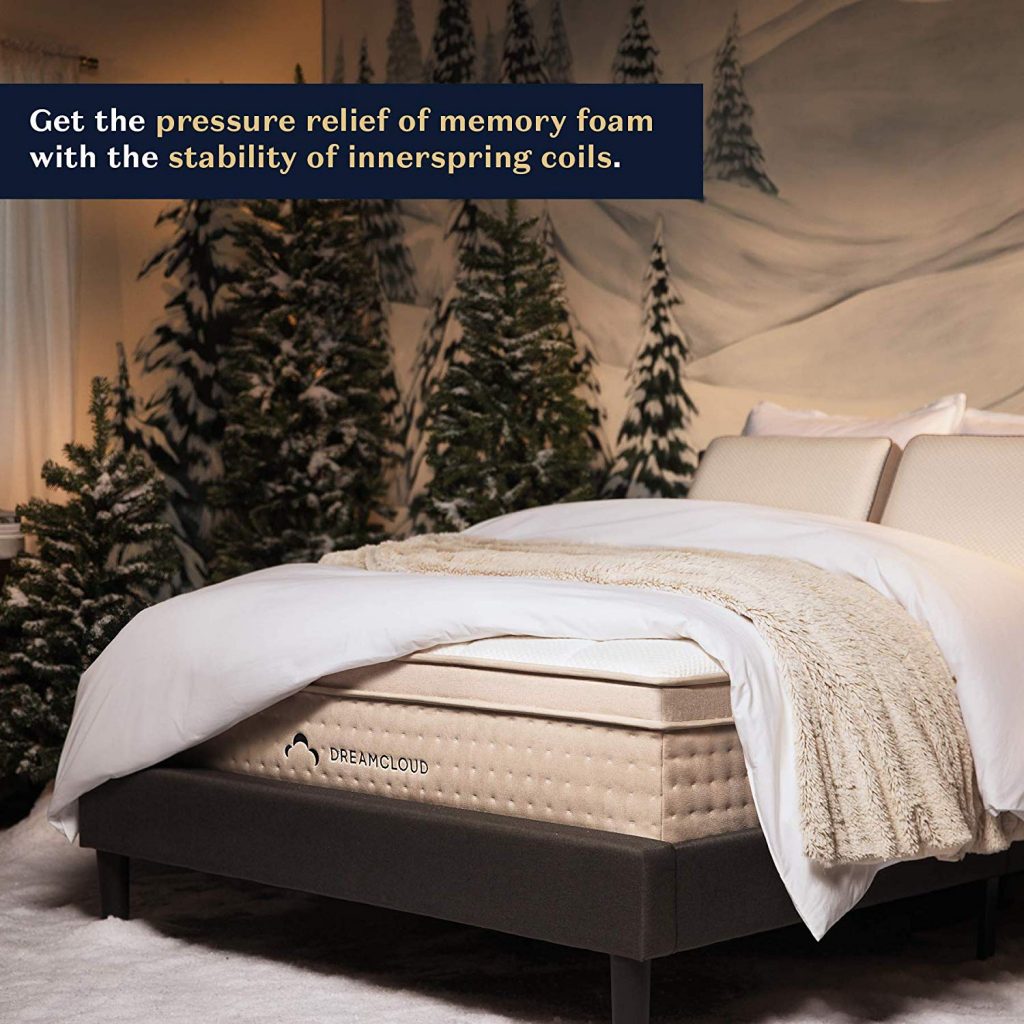 The counter paned euro top, the most upper layer, assures maximum feel of comfort and softness. When you will lay down on it, you can clearly notice how this layer cushions your whole body. The comfort layer's ultra-plush feel will tap your body into relax mode. The gel-infused memory foam in this particular layer will give relief to the pressure points of your body.
Dreamcloud's Luxury Hybrid mattress has been notoriously successful in curing users'  back pain. All of this is possible because of the design of this mattress, which matches up to your body's curves and also distributes the weight of your body equally on the surface of the mattress. These features free you from the chronic pain of your back. Additionally, this mattress is great for freestyle sleepers. If you can't sleep in one position or even if you sleep in any type of position, Dreamcloud's mattress will make sure that your position doesn't affect your sleep quality by its specific support layers induced in it.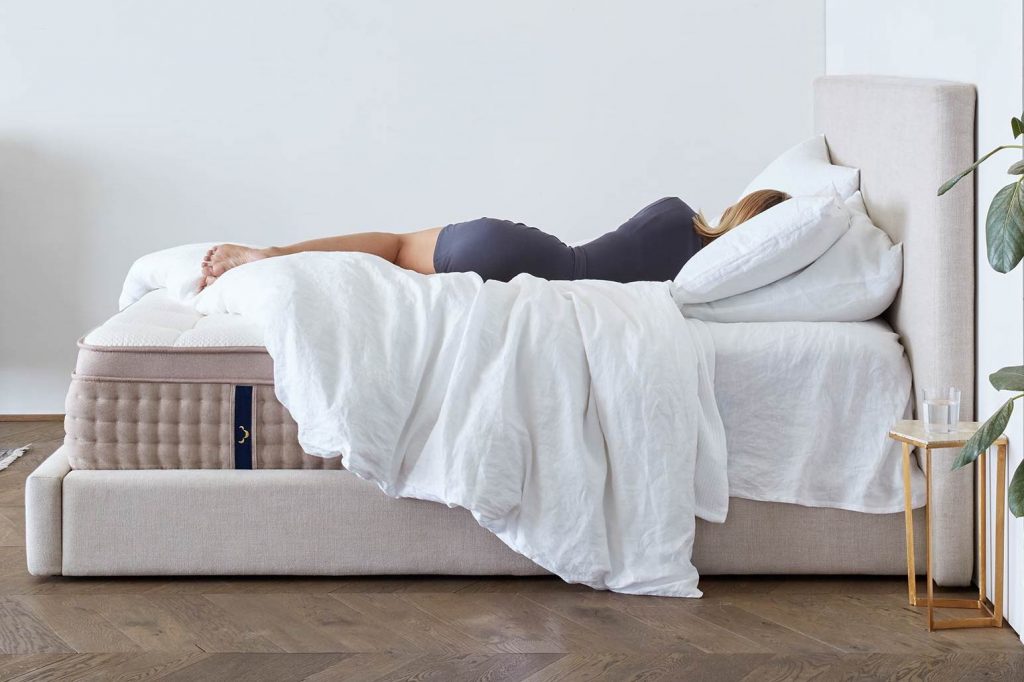 Features and specifications
Available in Twin, Twin XL, Full, Queen, King, and Cal King sizes
Multilayered design
Breathable and durable polyester fabric cover
Plush foam filling
Comforting medium-density foam
Cushioning gel memory foam
Supportive high-density foam
Innerspring coil system
Stabilizing base made of foam
Warranty for a lifetime
1-year trial
Dreamcloud Vs Competitor's
How does Dreamcloud compare to its competitors?
In the Business to Consumer arena, Dreamcloud is one of the prime options mattress retailers. As to be expected, there are plenty of companies offering similar products online. Dreamcloud's main rivals are Nectar and Purple; two brands offering premium products with superior technology to meet costumers' needs. We will compare Dreamcloud's Luxury Hybrid mattress with its Nectar and Purple equivalent looking at firmness, coolness, and comfort so you can better determine which one is the best option for you.
Dreamcloud Luxury Hybrid vs Nectar Memory Foam mattress
Similarities:
Both mattresses come with integrated memory foam technology.
You can expect a lifetime warranty with both brands.
Both Dreamcloud and Nectar offer a 365 nights trial.
Differences:
The most notorious difference is the type of mattress. While Nectar is a full foam mattress, Dreamcloud is a hybrid — it incorporates both foam and a coil system.

Dreamcloud is the most expensive of the two. For instance, Nectar's twin-sized mattress is 200 American dollars cheaper than the Dreamcloud equivalent. 

If you are interested in complementary products, Nectar is far the better option, offering a bundle that includes a mattress protector, adjustable frame, and sheets. Although Dreamcloud provides similar complementary products, you will need to buy them separately. 

Feature-wise, Dreamcla is superior to Nectar. It comes with 6 foam layers compared to Nectar's 5 layers. 

Overall, Dreamcloud is thicker. It's 38 cm (15″) compared to Nectar's 28 cm (11'').

Dreamcloud is heavier at 94 lbs twin size, while Nectar is 74 lbs twin size.
Dreamcloud Luxury Hybrid vs Purple Hybrid mattress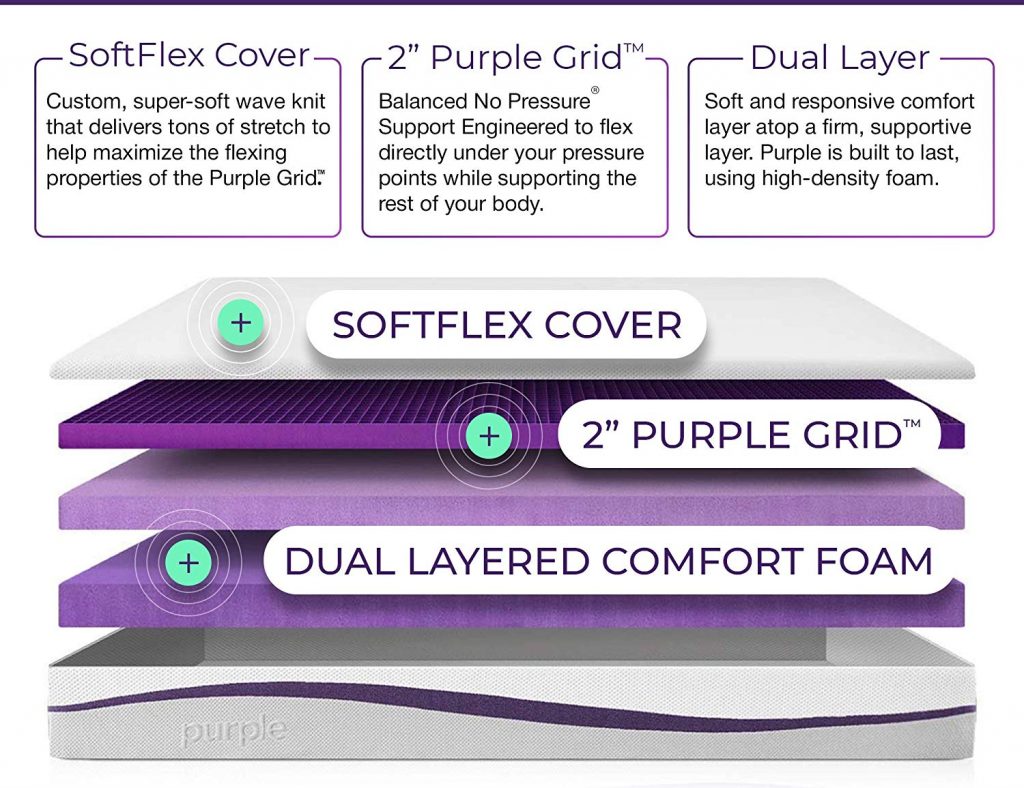 Similarities
You will find that both mattresses are firm and resilient.
Both Dreamcloud and Purple use materials to regulate body temperature.
Differences
Dreamcloud's twin XL mattress is 300 dollars cheaper than purple's twin XL. Overall, Dreamcloud is the most affordable option.
Dreamcloud uses memory foam for pressure relief. Purple uses "the purple grid", a technology of their own to eliminate pressure points and allow airflow.
Dreamcloud is thicker. It's 15″ compared to Purple's 23.5 cm (9.25″).
With Dreamcloud, you can get a lifetime warranty. On the other hand, Purple offers a 10-year limited warranty.
Purple offers a 100 nights trial compared to Dreamcloud's 365 nights trial.
If you are somebody who is willing to go an extra mile for guaranteed comfort and high-end, hotel-like quality, Dreamcloud's Luxury Hybrid Mattress is an excellent choice. This product will definitely give you more than you hoped for. Its durability, stability, and flexibility satisfy all kinds of sleepers. Plenty of users have compared the Dreamcloud's Luxury Hybrid Mattress experience to sleeping on a cloud and very comfortable.
Keli C, one of Dreamcloud's verified users shares her positive experience saying: "After receiving our King-size Dreamcloud Hybrid mattress, we spent an incredible night. We sleep the entire night without waking a single time. This didn't happen to use in years! It's been 2 months already and it is super comfy and the best mattress I've ever bought."
Find out what else are users saying here. Also, check out our detailed review's on Bamboo Mattress's here
Bye Bye Spring Mattress
A luxury hybrid mattress with gel-infused memory foam giving everyone a good night's sleep. The evenly distributed double-duty foam distributes even heat in winters and cools in summer. Designed to offer the perfect balance for comfort and contour with pushback support.
PROS
6-layer breathable and durable polyester fabric
Multiple sizes
Double-duty gel-infused foam for ultra-plush sleep
Great for side, back or stomach sleepers
Pocketed innerspring coil for cool comfort