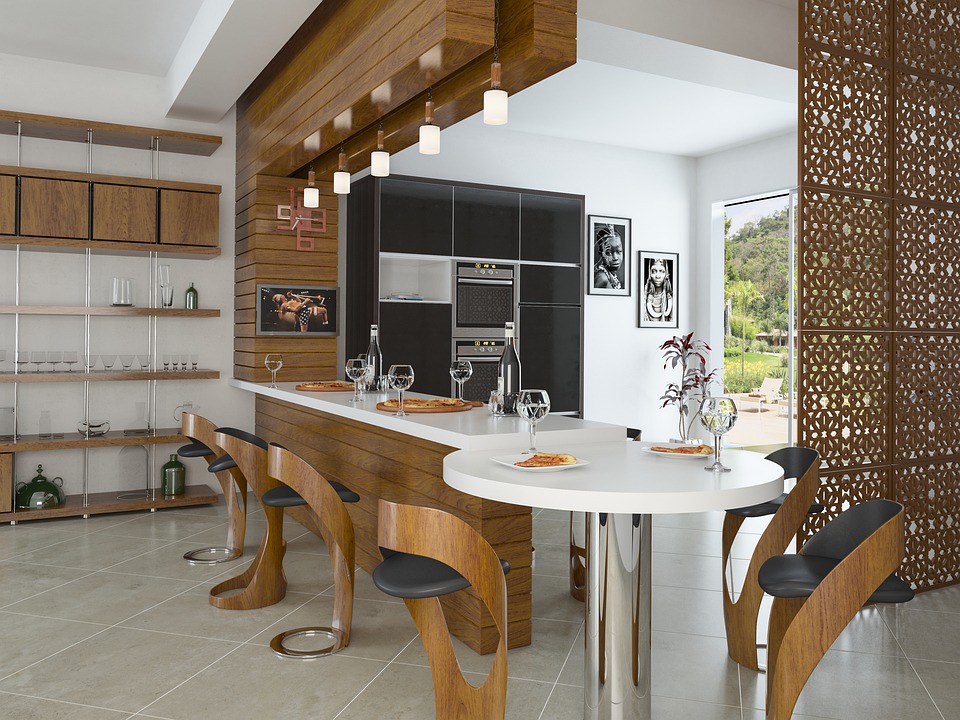 Accepting nature into our homes and incorporating it into every single room is one of the best ways of making our lives more sustainable and eco-friendly than ever. What's even better is that these natural elements look amazing and visually rather attractive, which is why they can easily become focal points of our living space. Still, not everyone knows how to do that and how to make the most of the natural elements in their homes, so what they can do is start small and use just two – wood and bamboo. These are easy to handle and combine with other elements and lots of different color schemes, so here are a few ways to introduce them into your home too.

Wooden furniture
This is the easiest, simplest and most effective way to use wood in your interior space – by using wooden furniture! From cupboards and vanities to wardrobes and shelves, you can furnish every room in your home using high-quality wood.
Of course, you have to include those wooden chairs that look elegant and intriguing at the same time, but are also supportive and comfortable enough for you to spend hours relaxing in them. Ultimately, don't forget wooden tables, desks, coffee tables and countertops where you can work and eat at the same time. Just find out the best type of wood out there, and start exploring options you like the most.

Bamboo décor
Some people consider this idea rather unusual, but that's just because they've never looked into it properly. Bamboo décor is among the most popular design choices all nature lovers make, and that's why you too should give this idea a thought.
Bamboo picture frames, figurines, vases, wall clocks, floor runners, tablecloths, jewelry boxes, mirror frames, lamps and even space dividers are great for adding a dose of nature into your living space and making it unique. Also, you can get some bamboo cutlery and plates, thus making your kitchen full of bamboo-based décor too.

Wooden doors
This is another efficient way to introduce wood into every corner of your home, but it's also one of the most visual and obvious ways as well. Every room needs a door, and, if you have a chance to, try to pick wooden doors instead of other alternatives. Great doors have an ability to make a powerful statement, and that's particularly true for your visually attractive entrance doors that help you make a great first impression and wow all your visitors.
This is why it's vital to have a door that's visually appealing and attention-grabbing, and it's a really wonderful addition to your home. When picking entrance doors for your home, pay attention to the design and carving details on them, because these will help your entrance look even more amazing. In the end, don't be afraid to spend a bit more money if you find doors that are sturdier and heavier than the rest, because these will take your home security to a whole new level.

Bamboo flooring
Here's another unusual and misunderstood idea that's not as popular as it should be, but if you knew how useful and healthy bamboo flooring really is, you'd feel differently about it. Some of the most important benefits of this sort of flooring include its availability, versatility, elegance, durability, adaptability, price range and the fact that it's easy to install and even easier to maintain.
There are different types of bamboo flooring you need to look into if you believe this is something you need in your home. Vertical, horizontal and strand woven flooring are among the most popular choices, and you won't make a mistake if you opt for any of these.
Naturally, these aren't the only ways to incorporate wood and bamboo into your home, and some of the other ideas include designing a wooden staircase, getting a wooden bed for your bedroom, building a wooden cabin or shed in your backyard, as well as opting for a wooden floor instead of bamboo. If you still prefer that material, though, you should consider bamboo furniture – although it looks uncomfortable, it's surprisingly cozy – and bamboo wall panels that are going to bring in a new dose of elegance into your living space.