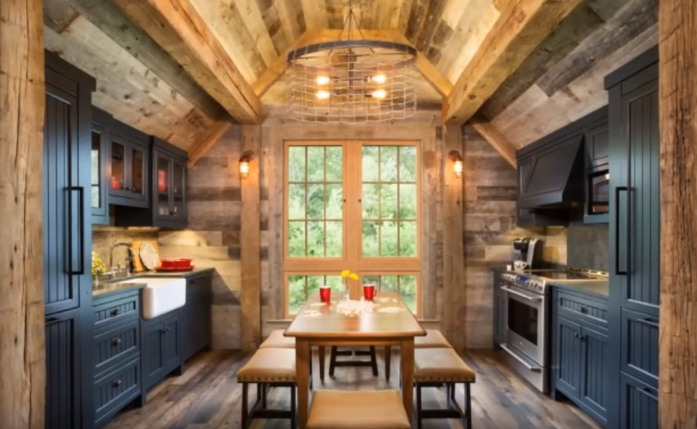 Farmhouses are entirely different from our everyday home or apartments. Designing the décor of the Farmhouse is more about comfort and warmth rather than style and modernized outlook. A classic Farmhouse is more rustic and cozier in appeal and often has a charming and relaxed vibe.
Decorating a farmhouse is certainly not an easy job, so below are the 20 simple rustic farmhouse décor ideas that everyone will love to incorporate into their design.
20 Rustic Farmhouse Decor Products
Wooden shelving
The entire rustic appeal is incomplete without wooden shelving. Farmhouses are more about utilizing every possible space. Attaching a few wooden shelves all over the farmhouse not only gives a rough around the edge like appeal but also utilizes the walls well.
Country kitchen cabinetry
The modular kitchen may sound appealing, but they never suit the rustic home décor of a Farmhouse. Instead, a farmhouse Cabinetry is more about a mixed and matched wooden finish. Bamboo furniture is also excellent for a rustic look in your Farmhouse. For more details about some of the perfect kitchen cabinetry for your farmhouse, you can check our suggestions for Using Bamboo Furniture for Kitchen Décor.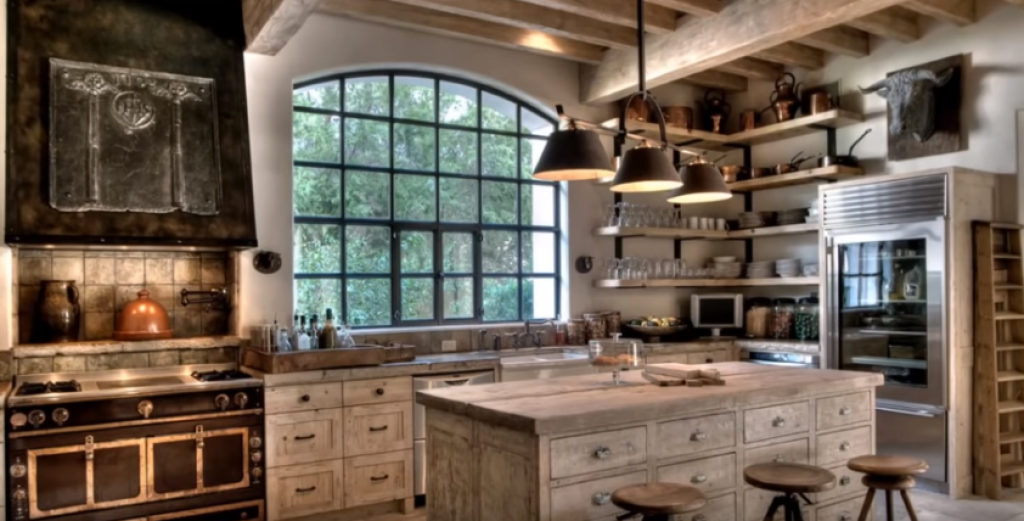 Exposed ceiling beams
Farmhouses and country barns are often constructed with wooden beams. Instead of hiding the beams behind panels, it is a great idea to expose the ceiling beams all around the farmhouse. Exposed ceiling beams completely change the look of the floor plan of the house.
Rustic fireplace
We all love fireplaces for sure but maintaining a wooden fireplace is not an easy job. The small sparks of fire are often not safe too. Instead of compromising, why not add a Rustic electric fireplace? These Rustic electric fireplaces not only provide warm but also adapts perfectly well with the vibes of the farmhouse look.
Deep porcelain sink
It's the age of stainless steel and marble sinks. Most of us have even forgotten the traditional old porcelain sinks. Adding a Porcelain sink gives an old Martha Stewart 1950's vibe to the kitchen. What's more interesting is that these deep sinks are huge and can be used for washing and cleaning lots of things at one go.
Warm neutral colors
Farmhouses are always about neutral colors. The neutral ton enhances the rustic appeal of the home without taking away the limelight.
Rustic old chandelier
A rustic chandelier sounds luxurious and expensive. However, they have always been a significant part of age-old traditional Farmhouse living room. It does not need to be an expensive Crystal one. A simple vintage looking Chandelier can lighten up space equally well without being heavy on the pocket.
Rugs and cushions
Rugs are often a perfect reminder of our Grandparents and country lifestyle. Adding a few handwoven rugs and cushions all around the farmhouse increases its cozy appeal a great deal more.
Traditional living room
Traditional living room in a farmhouse is never decorated with LCD and abstract modern-day sofa sets, paintings and Lamp sheds. It is more about warm and worn-out wooden sofa sets, couches, and rugs. Even the coffee table is made of teak or oak wood and is varnished and polished with natural wood coloring.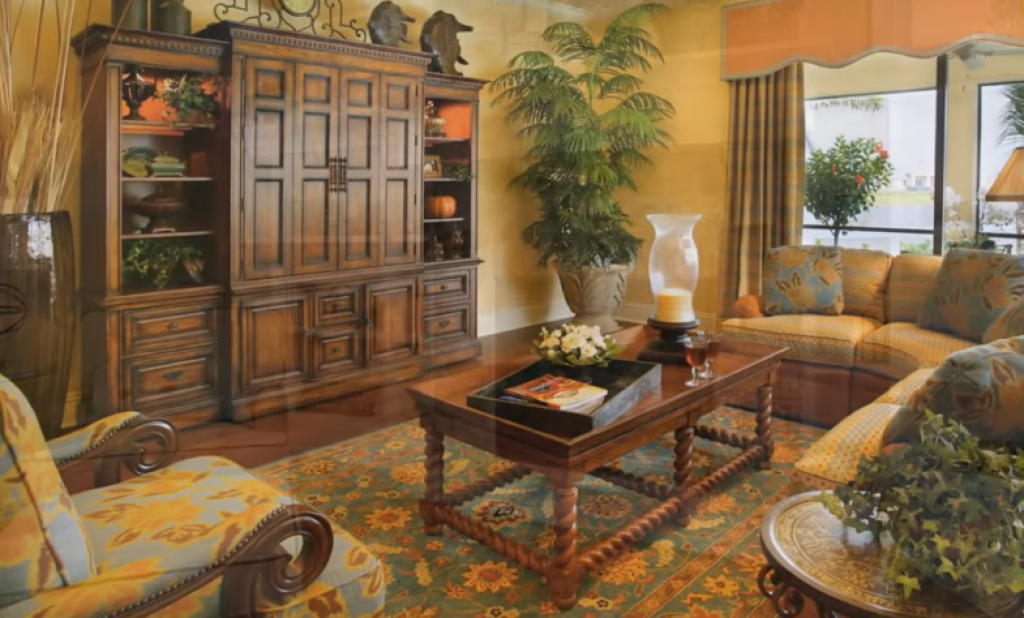 Mix and match bedroom furnishing
The bedroom design of a Farmhouse depicts years of collectibles and add on. So, it is never the right decision to place a matching set of bed furnishing in a farmhouse bedroom. The dresser, bed and the side table along with the rest of the bedroom furnishing are a knick and knack of various styles and materials.
Plants in clay pots
Clay pots are an integral part of farmhouse living that we should never forget about. Incorporating them into the home décor of a farmhouse is a great way to give it a fresh yet rustic look to the surrounding.
Salvaged stoneware
Stoneware is a great compliment to the décor of a farmhouse. Finding few old salvaged stoneware for the mantle and the shelving increases the rustic appeal of the room a great deal.
Silverware
Instead of the regular stainless steel and melamine crockery, silverware suits the ambiance of a rustic farmhouse a great deal more. A few silverware cutleries increase the appeal of country farmhouse a lot.
Reclaimed barn wood furniture
Furniture in a farmhouse is never meant to be ultra-modern or sparkling bright. They look quite out of place. Instead, it is always reclaimed barn wood furnishings that go perfectly well with the outlook of the room. Reclaimed wood is often worn out but extremely sturdy and resistant.
One of the most common furnishings you can build out of Barnwood is farmhouse tables. Farmhouse tables are often crafted out of reclaimed wood and feature unique details that make them both weathered and one of a kind. That said, a handmade farmhouse table can get really expensive when it's store-bought. If you have some DIY or carpentry experience, consider building your own farmhouse tables with one of these free farmhouse table plans.
Antique mirror
An antique mirror certainly changes the look of the room from the modern era to the time of the '50s for sure. Placing an antique mirror strategically in the farmhouse is a great idea for sure. Adding a few straw baskets and holders around the mirror beautifies it further.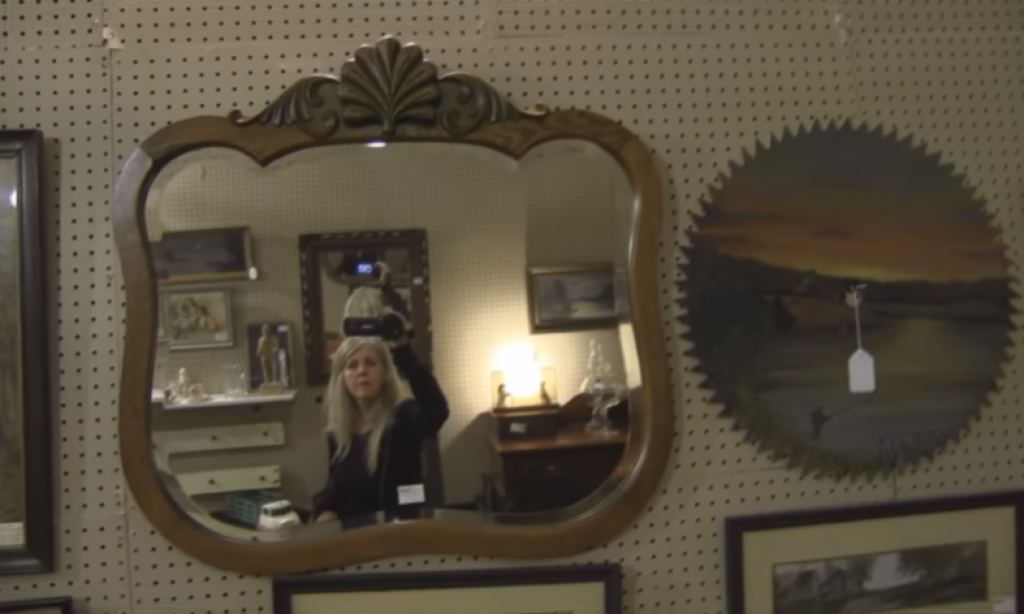 Neon lighting with lantern lights
Lanterns are the perfect examples of the older days. They are a great addition to any home if you want to give it a rustic look to it. Customizing them with neon fitted lightings is an easy yet effective way to change the look of the farmhouse décor.
Stone walls
Stone walls are not only a wonderful addition to the farmhouse décor, but they are also a great way to promote better temperature control all around the home. Farmhouses may give a cozy and warm feeling, but we cannot forget that they are generally pretty large, so maintaining an optimum temperature all year round needs strategic planning for sure. With a stone wall in place, it is just like killing two birds with one stone.
Porcelain and ceramic jars
Remember the days when our grandparents had those large white porcelain jars to store all the household goods? Placing them in the open shelves and cabinetry not only changes the vibe of the room but they are great for storage of pantry products too.
Vintage bathroom furnishing
Wooden tainted boxes for the toiletries accompanied with the wooden drawer busters holding the cotton towels are just some of the ideas that can be incorporated into the bathroom. Adding the Victorian style faucets and tub is also a great idea.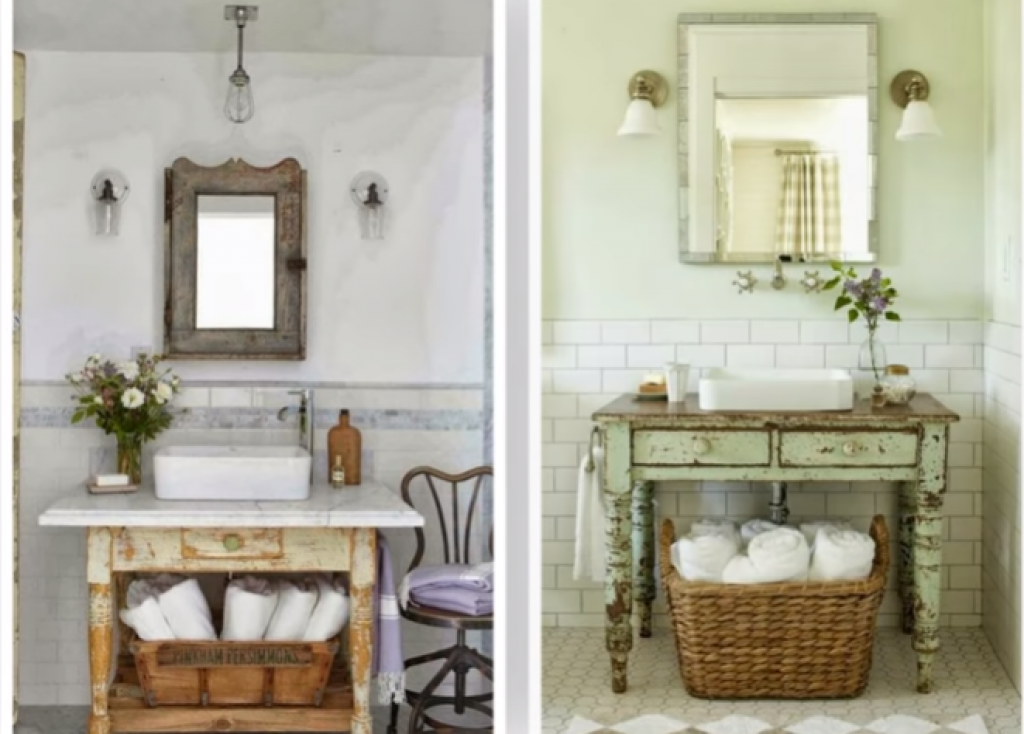 Copper sanitary ware fittings
Copper fitting suits the ambiance of a farmhouse perfectly. Adding these, instead of the regular modern stainless-steel fittings, increase the rustic appeal of the farmhouse a step further for sure.
These 20 rustic yet straightforward farmhouse décor ideas can certainly help one design their dream farmhouse without much hassle
Our Choice of Rustic Decor Products