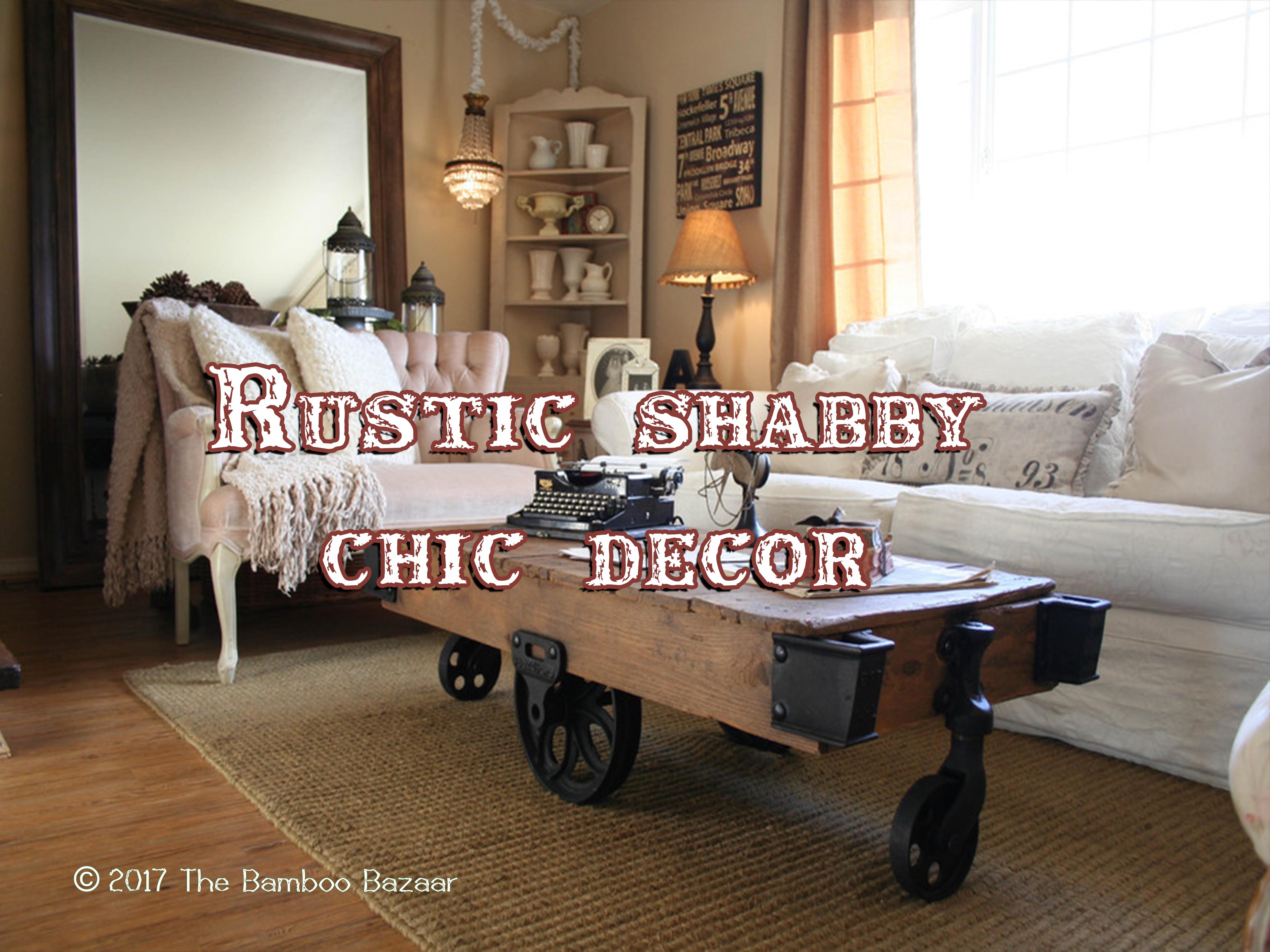 Rustic shabby chic décor
Rustic décor and shabby chic décor are two popular interior design trends at present, but you can combine the two for rustic shabby chic décor. When you think of shabby chic it is a more feminine style and rustic is considered more masculine, so combining the two styles is a perfect marriage. Any marriage needs common ground between the two and this what I'll be looking at in this article. Combining these two is quite easy as they are both casual styles with an oldy worldy antique look.
Shabby chic
Shabby chic décor originated from the UK during the 1980's, the style is characterized by distressed, worn in looking furnishings, faded floral patterns and soft colors. Think of Laura Ashley and Rachel Ashwell designs for a style guide.
Rustic décor
Rustic décor can be described as mid-west American style or maybe country style or farmhouse style; all three are what rustic décor is about. Rustic décor features reclaimed wood furniture, hand crafted furnishings, a no frills approach with the appearance of lumberjack shack.
Rustic and shabby chic colors
It would be quite easy to overwhelm the shabby chic muted pastel colors with the bold rustic hues, so a compromise will be needed, as all good marriages do! Colors such as colonial blues, mustard yellow, soft burgundy against of backdrop of cream or antique white is perfect way to meet in the middle with warm and muted shades. Other hues such as seafoam green, midrange teal, soft coral and cream or antique white will be another great choice of color scheme. Finding sources of inspiration from online sites or books for color scheme is another way of coming up with original ideas. If your home has natural surfaces like brick, stone or wood for the floor and walls, then consider painting them in a light coating of whitewash that will blend in with the shabby chic look.
Rustic and shabby chic furniture
Shabby chic furniture is more delicate, more feminine and rustic furniture is more; well, masculine, so how do you combine the two? One way of doing this is by using distressed wood, which is a common style of the two. A dining room can have a wooden rustic dining table that combined with distressed weathered looking bistro chairs in antique white. The living room the rustic Adirondack style chairs that is paired with a slip covered floral sofa in pastel colors would be an ideal union of the two styles. If you like doing DIY, this look can be attained quite easily by buying the furniture at flea markets, yard sales and online with eBay or Gumtree. If you prefer to purchase online and brand new, then check out my reviews for rustic dining tables and rustic coffee tables.
Light fixtures
The ideal way of combining rustic lighting and shabby chic lighting is with wooden light fixtures that feature metalwork such as bronze, copper or rustic iron colors. Chandeliers and lamps that feature distressed weathered wood that is finished in antique white or cream will perfectly complement the dining room, living room and the kitchen. There are no hard or fast rules with the lighting as long as it combines the two styles or complements the room décor. One of the best ways to combine the two styles is with a wood chandelier in weathered antique white with vintage style metalwork. I'm sure you will have fun in finding the perfect light fixture!
Rustic shabby chic décor fabrics and patterns
The normal shabby chic florals and toile prints that define the shabby chic look will be overwhelmed and lost in a rustic style room. One way of combining the two is with designs such as the Provencal style prints, paisley designs and foulards. Big and bold rustic lumberjack plaid will not sit easily with the shabby chic style either, so something like a muted tartan could be ideal. When considering the fabrics to use this will shape the overall color scheme, rustic shabby chic fabrics like linen, linen blends, burlap, denim and other sturdy fabric finishes will be perfect. Items such as woven rugs, draping a hand knitted cover over the sofa will give the room that homespun and comfort look.
Rustic and shabby chic accessories
The last part of this guide is to accessorize the room with rustic and shabby chic items, think antique looking and available from shabby chic sources. The materials needed include pottery, metal and wood, these will look fantastic as bowls and pitchers, and they will serve as accents for the whole room. Items such old vintage suitcases stacked up to make an end table and old vintage leather boots that serve as plant pot holders will give a dining, living room or a kitchen, that rustic shabby chic look. The decorative elements should have a balance of being useful and for decoration; this will complete the marriage of rustic décor and shabby chic décor!
The end bit
This article was researched by reading these sites, http://homeguides.sfgate.com/mix-shabby-chic-rustic-76828.html and http://stevensonridge.net/blog/vintage-vs-rustic-vs-shabby-chic/
I hope you enjoyed my article on rustic shabby chic décor, if you did, then please leave a comment below. Thanks for reading, Noi. The Bamboo Bazaar is a participant in the Amazon Services LLC Associates Program, an affiliate advertising program designed to provide a means for sites to earn advertising fees by advertising and linking to Amazon.com.
© 2017 The Bamboo Bazaar