The Bamboo Bazaar,

my blog about bamboo and rustic decor!
I believe in eco-friendly products that are sustainable and do not cause harm to our wonderful planet. At The Bamboo Bazaar I have selected the best products to review and guide you to best places to make your purchase.
Have a fantastic day.
Here is a selection of my guides and tips…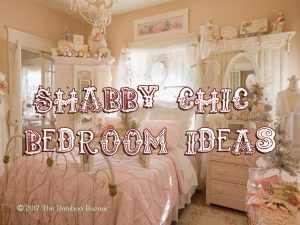 I've published a few articles about this décor, but I'm covering shabby chic bedroom ideas for you to remodel and transform with aged vintage style. The shabby chic look originates from Rachel Ashwell who discovered beautiful, but worn items in flea markets and second hand shops. The style is very feminine with touches of floral patterns, antique pieces and distressed furniture. The overall look of a room should be relaxing and comforting with faded furniture and neutral colors.
One of the most popular colors to use is antique white, but there are many different shades of white that work very well. For accent colors, think of neutral and pastel shades like light blues, pinks, sage greens and light greys. Remember any colors used in a shabby chic bedroom need to be light, muted or washed out, the overall look needs to be aged vintage.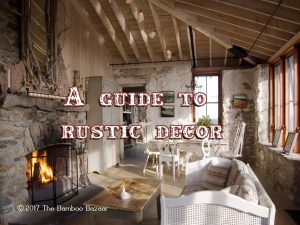 Rustic décor can fit into any home.  Whether you live in a natural rural setting or an urban environment, you can transform your space to accommodate a lifestyle more in tune with nature.  The rustic style blends various textures, materials, and items.  Decorating with this style is affordable for everyone.  All you must do to create a rustic space is familiarize yourself with popular rustic trends and themes then start decorating!
Rustic décor and country-style décor sometimes overlap.  Both styles have a basic, earthy appearance and include natural materials.  Rustic décor features more unfinished pieces that have a rougher look.  Decorations give the appearance of having come straight from nature with little or no alteration or finishing.  When you think of unfinished, simple, elemental, or natural, you are describing rustic décor.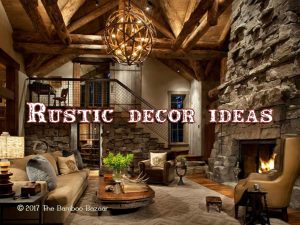 You do not have sacrifice style or beauty with rustic furniture and it is a back to basics way of giving your home a brand new look. Whether you are looking organic furniture items or furniture that has been recycled, you can give your home natural elegance and style all of its own.
Rustic décor has that lived in look and feels more inviting, a farmhouse table or an Edison lamp or maybe rustic coffee table has a unique sophistication about it. Even the word "rustic" has a warm and cozy glow attached to it. Interior design doesn't have to be bland and boring, straight out of the box from a major retailer.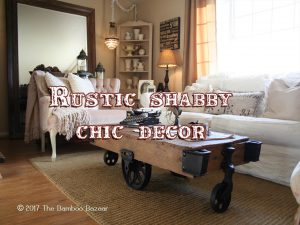 Rustic décor and shabby chic décor are two popular interior design trends at present, but you can combine the two for rustic shabby chic décor. When you think of shabby chic it is a more feminine style and rustic is considered more masculine, so combining the two styles is a perfect marriage. Any marriage needs common ground between the two and this what I'll be looking at in this article.
Combining these two is quite easy as they are both casual styles with an oldy worldy antique look. The decorative elements should have a balance of being useful and for decoration; this will complete the marriage of rustic décor and shabby chic décor!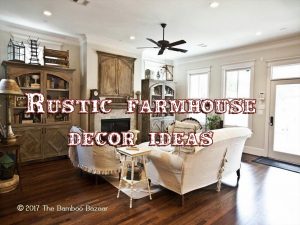 Rustic farmhouse décor is a combination of rustic and farmhouse styles, a lighter version of rustic, but having healthy doses of country living décor. This style hints at a simpler way of life and feels more homely too. In this article, I'll be looking at what defines this style of décor and how it can transform your home!
Whether you live in a house or an apartment, you can remodel your home to a rustic farmhouse style of décor. There are four main elements to this style and there are the core that needs to be incorporated into a home.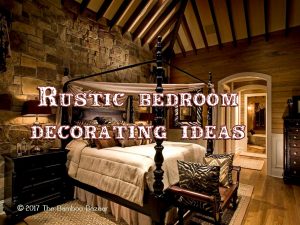 In this article, I'll be going into detail about rustic bedroom decorating ideas that are practical and affordable, plus overall look that is required for this style. A rustic bedroom is all about natural finishes, desert and sun-washed colors, muted tones and the hint of the southwest vibe!
Rustic décor for the bedroom can be more feminine or more masculine; the overall look will be down to persona preferences or finding common ground. You can alter the look of the bedroom by adding more feminine looking bedding or masculine looking lighting fixtures.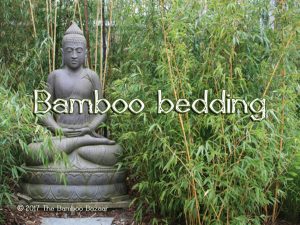 When you think of bed sheets, pillow cases and mattress covers, you would normally think of cotton or polyester or maybe silk, but how about bamboo bedding? If you have read some of my other articles about bamboo, you will know that bamboo can be made into a fabric. There are differing opinions whether bamboo fabric is sustainable and eco-friendly or not, you decide which is best for you and your eco-consciousness!
I do own a bamboo sheet set from Cariloha and they are fantastic to sleep on. Again I would not buy any sheet set which has a mix of cotton and bamboo fibers as they will not have much benefit for the moisture wicking qualities.
---
Thanks for reading, Noi. The Bamboo Bazaar is a participant in the Amazon Services LLC Associates Program, an affiliate advertising program designed to provide a means for sites to earn advertising fees by advertising and linking to Amazon.com.
© 2017 The Bamboo Bazaar